The 2016 Nancy Reagan First Spouse Gold Coin (Buy on eBay) represented the final release of the First Spouse Gold Coin Program. Under the authorizing legislation, coins were to be issued to honor the spouse of any President eligible to appear within the Presidential Dollar Coin Program. Nancy Reagan was the last First Lady meeting the criteria to be honored within the series.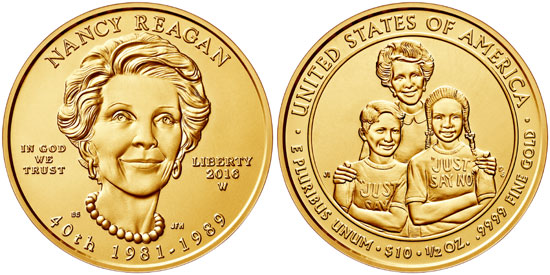 The design for both the Ronald Reagan Presidential Dollar and Nancy Reagan First Spouse Gold Coin were unveiled on February 6, 2016 at the Ronald Reagan Presidential Foundation and Library annual birthday celebration for the former President. The designs were unveiled by Richard A. Peterson, United States Mint Deputy Director of Manufacturing and Quality. Additional participants in the event included Marlin Fitzwater, former press secretary to President Ronald Reagan; John Heubusch, executive director of the Ronald Reagan Presidential Foundation; and Brig. Gen. Edward Banta, commanding general of Marine Corps Base Camp Pendleton.
The obverse design for the Nancy Reagan First Spouse Gold Coin features a front-facing portrait of the First Lady designed by Benjamin Sowards and engraved by Joseph Menna. The inscriptions include "NANCY REAGAN", the motto "IN GOD WE TRUST", "LIBERTY", the order of the Presidency "40TH", and the dates served "1981-1989".
The reverse design of the coin carries an image of Mrs. Reagan with two children during her "Just Say No" campaign for which she is well known. The reverse inscriptions include "UNITED STATES OF AMERICA", the motto "E PLURIBUS UNUM", the denomination "$10", and the precious metal weight and purity "1/2 OZ. .9999 FINE GOLD". The reverse was designed by Joel Iskowitz and engraved by Don Everhart.
On July 1, 2016, the United States Mint began accepting orders for the Nancy Reagan First Spouse Gold Coins. For the start of sales, the proof version of the coin was priced at $865 and the uncirculated version of the coin was priced at $845 based on the average market price of gold in the week leading up to the release. The prices would remain subject to potential change throughout the period of availability.
A maximum mintage of 15,000 pieces was established for the offering. This was higher than the 10,000 maximum mintage established for the other 2016-dated releases of the series based on anticipated higher demand. Within the first week of sales, collectors had ordered 1,428 proof and 792 uncirculated coins, which was higher than other recent releases, but the momentum soon slowed.
Both the proof and uncirculated versions remained available for sale into the following year.

Coin Specifications and Mintages
Date: 2016
Mint: West Point (W)
Mintage: TBD
Designers: Benjamin Sowards (obverse), Joel Iskowitz (reverse)
Composition: 0.9999 Gold
Weight: 0.5000 troy oz. (15.554 g)
Diameter: 1.041 inches (26.49 mm)
Thickness: 0.074 inches (1.88 mm)
2016 First Spouse Gold Coins

< Betty Ford | Barbara Bush >