The Dolley Madison First Spouse Gold Coin (Buy on eBay) represented the fourth and final issue for the inaugural year of the series honoring the spouses of the Presidents. After the first day sell outs experienced for the prior three releases, expectations remained high. However, this release would represent the beginning of a drop in demand, which would continue into the following year.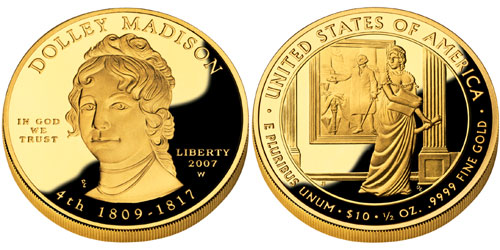 The obverse of the Dolley Madison Gold Coin featured her portrait, designed and sculpted by Don Everhart. The obverse inscriptions include "DOLLEY MADISON", "IN GOD WE TRUST", "LIBERTTY", the order of the Presidency "4TH", the dates of the Presidential term "1809-1817", and the date and mint mark "2007 W".
The reverse of the coin features the First Lady during one of her most recounted moments. She saved the cabinet papers and a Gilbert Stuart portrait of George Washington just before approaching British troops set the White House on fire. This famous act took place in August 1814. The reverse inscriptions include "UNITED STATES OF AMERICA", "E PLURIBUS UNUM", the denomination "$10", and the gold content and purity "1/2 OZ. .9999 FINE GOLD". The reverse was designed by Joel Iskowitz and sculpted by Don Everhart.
Expecting demand to remain high for the series, the U.S. Mint began sales of the Dolley Madison First Spouse Gold with ordering limits of one per option per household. Pricing was higher than the previous issue at $529.95 for proof coins and $509.95 for uncirculated coins due to the higher market price of gold.
A combination of the higher pricing and a recent downturn in secondary market prices for the earlier releases led to reduced sales for the Dolley Madison Gold Coins. A sell out of the maximum authorized mintage of 40,000 was not achieved. After approximately one year of availability, the final mintages reached 12,340 of the uncirculated version and 17,943 of the proof version.
Coin Specifications and Mintages
Date: 2007
Mint: West Point (W)
Mintage: 17,943 (proof), 12,340 (uncirculated)
Designers: Don Everhart (obverse), Joseph Menna (reverse)
Composition: 0.9999 Gold
Weight: 0.5000 troy oz. (15.554 g)
Diameter: 1.041 inches (26.49 mm)
Thickness: 0.074 inches (1.88 mm)
2007 First Spouse Gold Coins

< Thomas Jefferson's Liberty | Elizabeth Monroe >