The fourth year of the series to honor the nation's First Ladies continued with the release of the Jane Pierce First Spouse Gold Coin (Buy on eBay). The coin represented the fifteenth issue of the series overall. Jane Pierce was the wife of President Franklin Pierce and was First Lady from 1853-1857.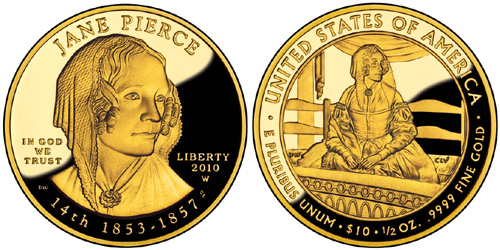 After an extended period of lackluster sales, the First Spouse Gold Coins seemed to be finding renewed interest from collectors. This may have been attributable to the increased market price for gold, which put more focus on gold coins and the higher secondary market prices for some of the sold out low mintage issues of the series.
The Jane Pierce First Spouse Gold Coin features her portrait on the obverse, as designed by Donna Weaver and sculpted by Don Everhart. Inscriptions include "JANE PIERCE", the order of the Presidency "14TH", the years spent as First Spouse "1853-1857", "LIBERTY", the motto "IN GOD WE TRUST", and the date of issue and mint mark.
The reverse of the coin includes a scene of Jane Pierce seated in the visitor's gallery of the United States Capitol Building. She is known for listening to the Senate debates on the issue of slavery. Reverse inscriptions encircling the scene read "UNITED STATES OF AMERICA", "E PLURIBUS UNUM", "$10", and "1/2 OZ. .999 FINE GOLD". The reverse was designed by Donna Weaver and sculpted by Charles Vickers.
Alternate reverse designs prepared by the United States Mint had included a scene during a thunderstorm where the Pierces' met in college and a scene of her reading on White House grounds. The final design was selected by the Treasury of the Secretary, following review by the Commission of Fine Arts and Citizens Coinage Advisory Committee.
The Jane Pierce First Spouse Gold Coins were available in uncirculated and proof versions, with pricing determined based on the average weekly price of gold plus a mark up. At the start of sales on June 3, 2010, coins were priced at $779 (proof) and $766 (uncirculated). The maximum authorized mintage was established at 15,000 pieces across both options.
The coins were available for sale at the U.S. Mint for a shorter duration than typical for the series. Generally, as long as the coins did not sell out of their entire maximum authorized mintage, they would remain available for approximately one year. The proof version of the Jane Pierce gold coins unexpectedly sold out on March 4, 2011, and the uncirculated version sold out later in the month on March 22. The final audited mintages reached 3,338 uncirculated coins and 4,775 proof coins.
Coin Specifications and Mintages
Date: 2010
Mint: West Point (W)
Mintage: 3,338 (uncirculated), 4,775 (proof)
Designers: Donna Weaver
Composition: 0.9999 Gold
Weight: 0.5000 troy oz. (15.554 g)
Diameter: 1.041 inches (26.49 mm)
Thickness: 0.074 inches (1.88 mm)
2010 First Spouse Gold Coins

< Abigail Fillmore | James Buchanan's Liberty >