For the third year of the First Spouse Gold Coin series, there were five different releases rather than the usual four. The greater number of coins seemed to have an impact on the number of coins purchased for each release. The Anna Harrison First Spouse Gold Coin (Buy on eBay) established a new mintage low for the series, which was followed by even lower levels for the next two issues.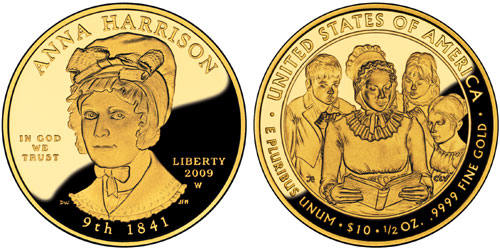 Anna Harrison was the wife of the 9th President William Henry Harrison. She served as the First Lady during the 30 day term of her husband's Presidency, although she never made the journey to Washington, D.C. due to illness. When she was prepared to leave, she learned of her husband's untimely death and remained at home.
The obverse of the Anna Harrison First Spouse Gold Coin features her portrait as designed by Donna Weaver and sculpted by Joseph Menna. The inscriptions include "ANNA HARRISON", "IN GOD WE TRUST", "LIBERTY", the order of the Presidency "9TH", the year of the Presidential term "1841", and the mintage date "2009".
The reverse features a scene of the future First Lady reading to school children. She educated her own children and started two schools with her husband in Indiana and Ohio. The reverse inscriptions include "UNITED STATES OF AMERICA", "E PLURIBUS UNUM", the denomination "$10", the gold content "1/2 OZ.", and the gold purity ".9999 FINE GOLD". The reverse of the coin was designed by Thomas Cleveland and sculpted by Charles Vickers.
The Anna Harrison First Spouse Coins were available for sale at the U.S. Mint starting on March 5, 2009. Proof and uncirculated versions were offered, with a maximum mintage of 40,000 coins across both options. Original pricing was $629.00 for the proof and $614.00 for the uncirculated. Prices were subsequently adjusted on numerous occasions in response to changes in the price of gold.
After approximately one year of availability, final mintages reached 6,251 proof and 3,645 uncirculated coins. At the time, these figures represented new mintage lows for the series. Eventually, a new low would be established by the Julia Tyler First Spouse Gold Coin, which was also released during the 2009 and remained available for sale through 2010.
Coin Specifications and Mintages
Date: 2009
Mint: West Point (W)
Mintage: 6,251 (proof), 3,645 (uncirculated)
Designers: Donna Weaver (obverse), Thomas Cleveland (reverse)
Composition: 0.9999 Gold
Weight: 0.5000 troy oz. (15.554 g)
Diameter: 1.041 inches (26.49 mm)
Thickness: 0.074 inches (1.88 mm)
2009 First Spouse Gold Coins

< Martin Van Buren's Liberty | Letitia Tyler >