The 2016 Betty Ford First Spouse Gold Coin (Buy on eBay) represented the penultimate release of the one-half ounce 24 karat gold coin series created to honor the spouses of the Presidents of the United States of America. This represented the forty-first overall release within the series.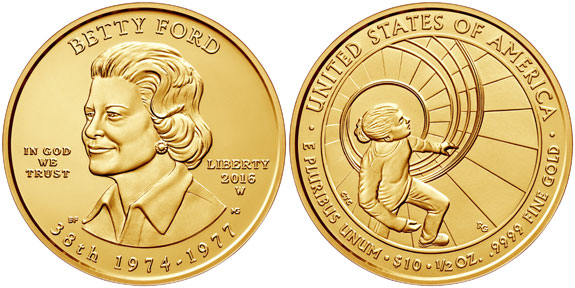 The obverse design of the coin featured a left-facing three-quarters portrait of Betty Ford designed by Barbara Fox and engraved by Michael Gaudioso. The portrait is surrounded by the required inscriptions including the name of the First Lady "BETTY FORD", the motto "IN GOD WE TRUST", "LIBERTY", the date and mint mark "2016 W", the order of the Presidency "38TH", and the dates served "1974-1977".
On the reverse of the coin is the image of a young woman ascending a spiral staircase. This was intended to be representative of Mrs. Ford's openness and advocacy regarding addiction, breast cancer awareness, and the rights of women. The inscriptions include "UNITED STATES OF AMERICA", the motto "E PLURIBUS UNUM", the denomination "$10", and the precious metal weight and purity "1/2 OZ. .9999 FINE GOLD". The reverse was designed by Chris Costello and engraved by Renata Gordon.
The United States Mint opened sales for the Betty Ford First Spouse Gold Coins on March 25, 2016. On that date individual proof and uncirculated versions of the coin were made available for purchase. The initial pricing was established at $815 for the proof version and $795 for the uncirculated version. These prices were based on a weekly average gold price within the $1,200 to $1,249.99 range. The prices of the coins would remain subject to potential change throughout the course of the offering.
A maximum mintage of 10,000 pieces was established across both the proof and uncirculated versions of the coin, matching the level used for most recent issues of the series. The U.S. Mint indicated that customer demand would be used to determine the ratio of proof to uncirculated coins produced.
Coin Specifications and Mintages
Date: 2016
Mint: West Point (W)
Mintage: TBD
Designers: Barbara Fox (obverse), Chris Costello (reverse)
Composition: 0.9999 Gold
Weight: 0.5000 troy oz. (15.554 g)
Diameter: 1.041 inches (26.49 mm)
Thickness: 0.074 inches (1.88 mm)
2016 First Spouse Gold Coins

< Patricia Nixon | Nancy Reagan >