The ongoing series of 24 karat gold coins honoring the First Ladies of the United States underwent a change with the release of the Abigail Fillmore First Spouse Gold Coin (Buy on eBay). Following several years of tepid sales levels, the maximum authorized mintages levels were reduced.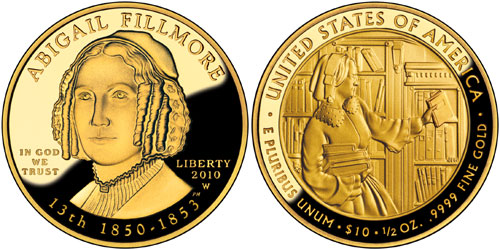 When the First Spouse Gold Coin Program was launched in 2007, excitement was high and sales were brisk. The first three issues had sold out of their entire maximum mintage of 40,000 coins per design. However, early speculative would fade, as premiums for the sold out coins started to decline. By 2009, new issues of the series were selling just 25% of the established maximum.
The United States Mint lowered the maximum mintage for the Abigail Fillmore First Spouse Gold Coin to only 15,000 across proof and uncirculated versions. The same level was used for each of the other 2010 dated releases, with the exception of the Mary Todd Lincoln First Spouse Gold Coin, which had a maximum of 20,000.
The obverse of the Abigail Fillmore First Spouse Gold Coin features her portrait as designed and sculpted by Phebe Hemphill. Obverse inscriptions include "ABIGAIL", "IN GOD WE TRUST", "LIBERTY", the order of the Presidency "13TH", years of the term "1850-1853", and the date of issue.
On the reverse is a depiction of Abigail Fillmore placing books on the shelf of the White House Library which she established. During her husband Millard Fillmore's presidency, she had acquired several hundred volumes to start the collection from $2,000 in funds appropriated for the project. Inscriptions include "UNITED STATES OF AMERICA", "E PLURIBUS UNUM", the denomination "$10", the weight and fineness of the bullion "1/2 OZ. .999 FINE GOLD". The reverse was designed by Susan Gamble and sculpted by Joseph Menna.
The United States Mint began sales of the coins on March 18, 2010. The initial pricing was set at $729 for proofs and $716 for uncirculated coins based on the average price of gold for the preceding week. There were no household ordering limits imposed. Throughout the course of the offering, pricing was adjusted as needed based on fluctuations in the price of gold.
The uncirculated version of the Abigail Fillmore coin remained available for sale until late March 2011, while the proof version remained on sale until May 5, 2011 when the coins featuring Eliza Johnson were released. Final audited mintages were 3,482 uncirculated and 6,130 proof coins. The combined total of 9,612 was higher compared to the previous four releases of the series.
Coin Specifications and Mintages
Date: 2010
Mint: West Point (W)
Mintage: 3,482 (uncirculated), 6,130 (proof)
Designers: Phebe Hemphill (obverse), Susan Gamble (reverse)
Composition: 0.9999 Gold
Weight: 0.5000 troy oz. (15.554 g)
Diameter: 1.041 inches (26.49 mm)
Thickness: 0.074 inches (1.88 mm)
2010 First Spouse Gold Coins

< Margaret Taylor | Jane Pierce >