The 2014 Grace Coolidge First Spouse Gold Coin (Buy on eBay) was first made available for sale from the United States Mint on July 17, 2014. The release date came just one week after the previous release within the series.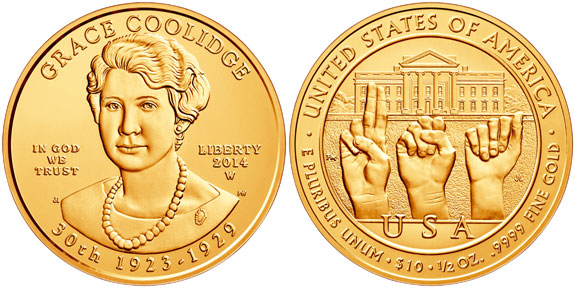 Prior to becoming First Lady, Grace Coolidge had taught at a school for the deaf and hard-of-hearing and served on its board of trustees. As First Lady during the Presidency of Calvin Coolidge, she promoted education for the deaf and drew attention to the needs of the disabled. She also supported groups promoting leadership and community service activities for boys and girls.
The obverse design of the Grace Coolidge First Spouse Coin features a portrait designed by Joel Iskowitz and engraved by Phebe Hemphill. The inscriptions include "GRACE COOLIDGE", the motto "IN GOD WE TRUST", "LIBERTY", the date and mint mark "2014 W", the order of the Presidency "30TH", and the dates served "1923-1929".
The reverse of the coin was designed by Frank Morris and engraved by Jim Licaretz and features an image of three hands finger-spelling the letters "USA" in American Sign Language against the backdrop of the White House. The surrounding inscriptions include "UNITED STATES OF AMERICA", the motto "E PLURIBUS UNUM", the denomination "$10", and the precious metal weight and content "1/2 OZ. .9999 FINE GOLD.
A maximum mintage of 10,000 pieces was established for the release across proof and uncirculated versions. Sales opened with no established household ordering limits. The initial price for the coins was $865 for the proof version and $845 for the uncirculated version, based on an average market price of gold within the $1,300 to $1,349.99 range. Pricing was subject to potential weekly adjustment following fluctuations in the market price of gold.
As with recent releases within the series, sales for the coin remained at relatively subdued levels throughout the course of the offering. A core group of collectors continued to consistently support the program, providing a base level of demand. When the coins were removed from availability, the last reported sales reached 1,949 uncirculated coins and 2,315 proof coins.
Coin Specifications and Mintages
Date: 2014
Mint: West Point (W)
Mintage: 1,949 (uncirculated), 2,315 (proof)
Designers: Joel Iskowitz (obverse), Frank Morris (reverse)
Composition: 0.9999 Gold
Weight: 0.5000 troy oz. (15.554 g)
Diameter: 1.041 inches (26.49 mm)
Thickness: 0.074 inches (1.88 mm)
2014 First Spouse Gold Coins

< Florence Harding | Lou Hoover >