The 2013 Edith Roosevelt First Spouse Gold Coin (Buy on eBay) represented the second release of the year for the program. Sales for the coin opened only seven days after the prior issue, falling into a tightly compressed release schedule caused by a delayed design selection process and production problems.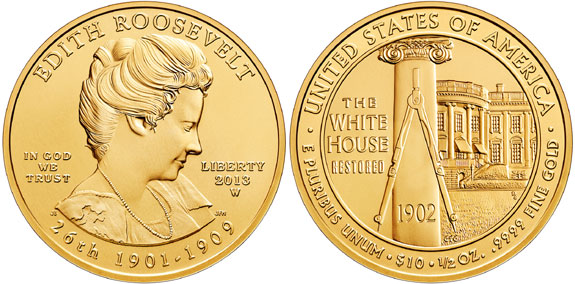 The obverse design of the coin featured an image of the First Lady created from a composite of two photographs. Although the pose was uncharacteristic for the series, it was recommended by both the Commission of Fine Arts and the Citizens Coinage Advisory Committee since one of the source photographs was known to be a favorite of President Theodore Roosevelt. Additionally, the design was the preference of the Roosevelt family and the Theodore Roosevelt Association. The obverse was completed by the inscriptions "EDITH ROOSEVELT", "IN GOD WE TRUST", "LIBERTY", "2013", "26TH", and "1901-1909".
The reverse design was intended to represent Mrs. Roosevelt's work in the restoration of the White House in 1902. An off center column and compass divides an image of the White House and the words "THE WHITE HOUSE RESTORED". Additional inscriptions around the edge of the coin include "UNITED STATES OF AMERICA", "E PLURIBUS UNUM", the denomination "$10", and the precious metal weight and purity of "1/2 OZ. .9999 FINE GOLD".
The obverse was designed by Joel Iskowitz and engraved by Joseph Menna. The reverse was designed by Chris Costello and engraved by Don Everhart.
Sales for the Edith Roosevelt First Spouse Gold Coin opened on November 21, 2013. The initial pricing was $840 for the proof version of the coin and $820 for the uncirculated version. Pricing remained subject to change throughout the period of availability.
A maximum mintage of 10,000 pieces was established across both versions of the coin. However, as in the past the United States Mint did not produce the coins to the full extent of the maximum.
The coins would remain available for sale through the following year and into 2015. When the inventories were finally depleted, last reported sales reached 2,027 uncirculated and 2,840 proof coins.
Coin Specifications and Mintages
Date: 2013
Mint: West Point (W)
Mintage: 2,027 (uncirculated), 2,840 (proof)
Designers: Joel Iskowitz (obverse), Chris Costello (reverse)
Composition: 0.9999 Gold
Weight: 0.5000 troy oz. (15.554 g)
Diameter: 1.041 inches (26.49 mm)
Thickness: 0.074 inches (1.88 mm)
2013 First Spouse Gold Coins

< Ida McKinley | Helen Taft >