Although the Abigail Adams First Spouse Gold Coin (Buy on eBay) is considered the second within the broader series, it was actually released simultaneously with the Martha Washington First Spouse Coin on June 19, 2007. Collectors scrambling to place orders for the first issues of the new series, bought the maximum mintage for both coins on the opening day of sales.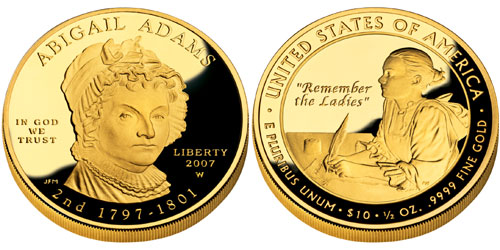 After the sell out, coins quickly began changing hands for premiums on the secondary market. The household ordering limit of five coins per option per household had prevented any mass ordering by individuals. Despite the initial excitement, prices eventually receded to a level just above the gold value, which resulted in a well known firm melting thousands of coins.
The obverse of the Abigail Adams Gold Coin featured a portrait designed and sculpted by Joseph Menna. Abigail Adams had served as First Lady from 1797 to 1801 during the Presidency of her husband John Adams. The obverse inscriptions on the coin include "ABIGAIL ADAMS", "IN GOD WE TRUST", "LIBERTY", the order of the Presidency "2ND", the dates of the Presidential term "1797-1801", and the date and mint mark "2007 W".
The reverse of the coin depicts Abigail Adams writing a memorable letter to her husband while he was in Philadelphia. She requested that he "remember the ladies" while crafting the framework for the new Republic. She was known for her political insight and intellectual vigor. The reverse inscriptions include "UNITED STATES OF AMERICA", "E PLURIBUS UNUM", the quote "REMEMBER THE LADIES" in script, with the denomination, gold content, and purity. The reverse of the coin was designed by Thomas Cleveland and sculpted by Phebe Hemphill.
Abigail Adams First Spouse Coins were offered in both proof and uncirculated versions at original prices of $429.95 and $410.95, respectively. On the starting day of sales, the market price of gold was $656.30 per ounce.
The United States Mint had set the maximum mintage for this issue at 40,000 coins. The same figure would be used for the first three years of the series. The Abigail Adams First Spouse Gold Coins achieved a full sell out on the first day of sales, although final audited mintages came in at 17,142 uncirculated coins and 17,149 proofs.
Coin Specifications and Mintages
Date: 2007
Mint: West Point (W)
Mintage: 17,149 (proof), 17,142 (uncirculated)
Designers: Joseph Menna (obverse), Thomas Cleveland (reverse)
Composition: 0.9999 Gold
Weight: 0.5000 troy oz. (15.554 g)
Diameter: 1.041 inches (26.49 mm)
Thickness: 0.074 inches (1.88 mm)
2007 First Spouse Gold Coins

< Martha Washington | Thomas Jefferson's Liberty >