The Sarah Polk First Spouse Gold Coin (Buy on eBay) was be the twelfth release of the 24 karat gold series created to honor the spouses of the Presidents. It represented the fourth out of five releases for 2009. Typically the release schedule for the series included four issues per year, however two exceptions exist for situations where a President had a first and second wife.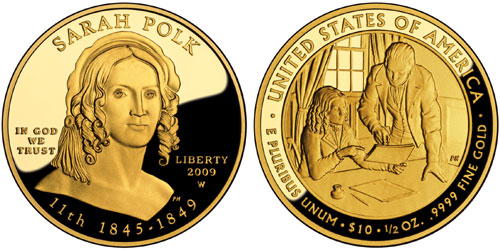 On the obverse of the Sarah Polk First Spouse Gold Coin is her portrait, as designed and sculpted by Phebe Hemphill. The surrounding inscriptions include her name "SARAH POLK", the motto "IN GOD WE TRUST", "LIBERTY", the order of the Presidency "11TH", the years of the term "1845-1849", and the date and mint mark "2009 W".
The reverse carries a fitting scene of Sarah Polk working in her capacity as her husband James Knox Polk's private secretary during his presidency. She has been the only First Lady to serve in this capacity. Within the series, this represents one of a handful of issues where the President and Spouse are pictured together. The reverse was also designed and sculpted by Hemphill and carries inscriptions "UNITED STATES OF AMERICA", "E PLURIBUS UNUM", "$10″, and"1/2 OZ. .9999 FINE GOLD".
Sales of the Sarah Polk First Spouse Gold coins began at the United States Mint on September 3, 2009. The coins were offered in proof version at an initial price of $654 and in uncirculated at $641. During the period of availability, prices were adjusted on numerous occasions in response to changes in the underlying price of gold. An ordering limit of ten coins per household was initially in place, but later removed.
The coins remained available for sale for approximately one year, reaching an overall mintage of 8,640 coins. This was made up of 3,489 of the uncirculated version and 5,151 proofs. The overall sales level was above the prior two issues honoring Letitia Tyler and Julia Tyler.
Coin Specifications and Mintages
Date: 2009
Mint: West Point (W)
Mintage: 5,151 (proof), 3,489 (uncirculated)
Designers: Phebe Hemphill
Composition: 0.9999 Gold
Weight: 0.5000 troy oz. (15.554 g)
Diameter: 1.041 inches (26.49 mm)
Thickness: 0.074 inches (1.88 mm)
2009 First Spouse Gold Coins

< Julia Tyler | Margaret Taylor >