The Lucy Hayes First Spouse Gold Coin (Buy on eBay) represented the twentieth overall release within the series of 24 karat gold coins honoring the First Ladies. Significantly, the uncirculated version of the coin sold out at an extremely low mintage level, capturing the attention of collectors.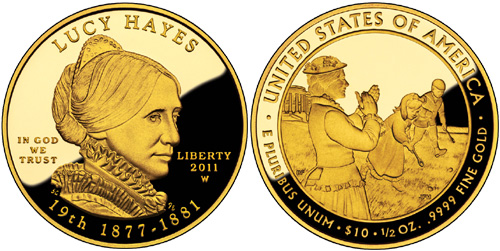 Lucy Hayes was the spouse of the 19th President of the United States, Rutherford B. Hayes. She served as the First Lady from 1877 to 1881, a period which included her silver wedding anniversary. She is often noted as an advocate of the temperance movement and banned alcohol in the White House during her husband's Presidency.
The obverse design of the coin features her portrait, surrounded by the required inscriptions. These include her name "LUCY HAYES", the motto "IN GOD WE TRUST", "LIBERTY", the order of the Presidency "19TH", the years of the term "1877-1881", and the date and mint mark. The obverse was designed by Susan Gamble.
A scene from the first White House Easter Egg Roll is depicted on the reverse of the coin. The First Lady cheers on two children participating in the event. Inscriptions include "UNITED STATES OF AMERICA", the motto "E PLURIBUS UNUM", "$10", and "1/2 OZ. .999 FINE GOLD". The reverse of the coin was designed by Barbara Fox.
The release date for the Lucy Hayes First Spouse Coins was September 1, 2011. On this date, the proof and uncirculated versions went on sale at the United States Mint priced at $1,054 and $1,041, respectively. This was based on the average market price of gold leading up to the release and represented the highest starting prices for any releases of the series to date. During the course of the offering, the market price of gold declined, bringing the U.S. Mint's prices as low as $954 for proofs and $941 for uncirculated coins.
The U.S. Mint had established a maximum mintage of 15,000 across both versions of the coin, but apparently did not produce coins to the full extent of the maximum mintage based on customer demand trends.
On August 6, 2012, the uncirculated version of the coin unexpectedly sold out at the United States Mint and recorded a final mintage of just 2,196 pieces. At the time, this amount represented not only a new low for the series, but also the lowest mintage level for any modern United States gold coin.
The proof version of the coin would continue to remain available until the conclusion of sales on December 31, 2012 as part of a "last chance" sale. The final mintage for the proof version was 3,868 pieces.
Coin Specifications and Mintages
Date: 2011
Mint: West Point (W)
Mintage: 2,196 (uncirculated), 3,868 (proof)
Designers: Susan Gamble (obverse), Barbara Fox (reverse)
Composition: 0.9999 Gold
Weight: 0.5000 troy oz. (15.554 g)
Diameter: 1.041 inches (26.49 mm)
Thickness: 0.074 inches (1.88 mm)
2011 First Spouse Gold Coins

< Julia Grant | Lucretia Garfield >