The Julia Tyler First Spouse Gold Coin (Buy on eBay) was one of two coins issued in the series for the 10th Presidency. This marked an important issue for the broader series, as it set a new mintage low for the series, which would remain in place for several years. Both the proof and uncirculated versions trade at premiums on the secondary market.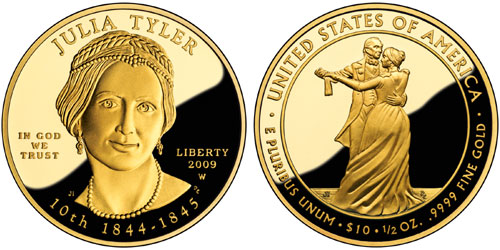 Following the death of his wife in 1842, President John Tyler remarried on June 26, 1844 to Julia Gardiner Tyler. She acted as the First Lady for the last eight months of his Presidency. Under the requirements of the authorizing legislation for the series, separate coins were issued to honor both his first and second wide. Another similar situation would occur in 2013 when coins were released for the first and second wives of President Woodrow Wilson.
The Julia Tyler First Spouse Gold Coin includes the her portrait on the obverse designed by Joel Iskowitz and sculpted by Don Everhart. The inscriptions include "JULIA TYLER", "IN GOD WE TRUST", "LIBERTY", the order of the Presidency "10TH", the years she served as First Lady "1844-1845", and the date and mint mark "2009 W".
On the reverse of the coin is a scene of Julia Tyler dancing with her husband John Tyler at a White House Ball. She had introduced the polka at a White House event, leading the dance to have widespread national popularity. The reverse inscriptions read, "UNITED STATES OF AMERICA", "E PLURIBUS UNUM", "$10", and "1/2 OZ. .9999 FINE GOLD". The reverse of the coin was also designed by Iskowitz and sculpted by Everhart.
The United States Mint began sales of the Julia Tyler Coins on August 6, 2009. Both proof and uncirculated versions were available with a maximum mintage of 40,000. The initial pricing for the coins was $629.00 for proofs and $619.00 for uncirculated coins. On several occasions, the prices would be raised to account for the higher market price of gold. When last available for sale, the prices were $779.00 and $766.00.
Sales of the coin unexpectedly concluded on June 3, 2010 to coincide with a new release honoring Jane Pierce. Typically, First Spouse Gold Coins had remained available for sale until the maximum mintage had been sold or for approximately one year. In this case, the sales period was about ten months.
The Julia Tyler First Spouse Gold Coins established a new mintage low for the series. The uncirculated version had a mintage of 3,143, which would stand as the lowest mintage issue for more than a year. The proof version of the coin had a mintage of 4,844, which for a time represented the lowest mintage for a proof coin of the series.

Coin Specifications and Mintages
Date: 2009
Mint: West Point (W)
Mintage: 4,844 (proof), 3,143 (uncirculated)
Designers: Joel Iskowitz
Composition: 0.9999 Gold
Weight: 0.5000 troy oz. (15.554 g)
Diameter: 1.041 inches (26.49 mm)
Thickness: 0.074 inches (1.88 mm)
2009 First Spouse Gold Coins
< Letitia Tyler | Sarah Polk >