Representing the last release of the third year for the series was the Margaret Taylor First Spouse Gold Coin (Buy on eBay). This coin honored the wife of the 12th President Zachary Taylor, although the coin was the thirteenth release of the series overall.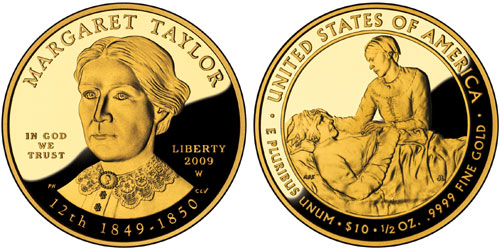 By this point of the series, interest had cooled significantly, but finally seemed to establish a base level of demand from dedicated collectors. After the Dolley Madison First Spouse Gold Coin had failed to sell the maximum mintage, sales levels had continued to drop in the second and third years of the series. Finally signs of stabilization were seen around the 8,000 coin per issue level.
The Margaret Taylor First Spouse Gold Coin features the portrait of the First Lady on the obverse. The inscriptions include "MARGARET TAYLOR", "IN GOD WE TRUST", "LIBERTY", the order of the Presidency "12TH", the years of the Presidential term "1849-1850", and the date and mint mark "2009 W". The obverse was designed by Phebe Hemphill and sculpted by Charles Vickers.
The reverse of the coin depicts a younger Margaret Taylor caring for a wounded soldier. She is known for having nursed wounded soldiers and counseled soldier's wives during the Seminole War. The coin's reverse inscriptions read "UNITED STATES OF AMERICA", "E PLURIBUS UNUM", the legal tender face value "$10", and the gold content and purity "1/2 OZ. .9999 FINE GOLD". Design credit of the reverse goes to Mary Beth Zeitz, with sculpting performed by Jim Licaretz.
The United States Mint offered both proof and uncirculated versions of the coin for sale to the public starting on December 3, 2009. The original pricing was established at $754 and $741 for the proof and uncirculated versions, respectively. An overall limit of 40,000 coins across both options was established, with an initial household limit of ten coins per option per household.
The coins would remain available for sale at the U.S. Mint into the following year, with the ordering limit eventually removed. Prices would fluctuate based on the prevailing price of gold. Just before the conclusion of sales on December 2, 2010, the coins were priced at $854 and $841 each.
The final mintages reached 3,627 uncirculated and 4,936 proof coins . The overall total of 8,563 was below the level of the prior issue.
Coin Specifications and Mintages
Date: 2009
Mint: West Point (W)
Mintage: 4,936 (proof), 3,627 (uncirculated)
Designers: Phebe Hemphill (obverse), Mary Beth Zeitz (reverse)
Composition: 0.9999 Gold
Weight: 0.5000 troy oz. (15.554 g)
Diameter: 1.041 inches (26.49 mm)
Thickness: 0.074 inches (1.88 mm)
2009 First Spouse Gold Coins
< Sarah Polk | Abigail Fillmore >