Mintage levels for the series reached a temporary trough with the Louisa Adams First Spouse Gold Coin (Buy on eBay). This issue represented the second release of the year and the sixth release overall. The United States Mint officially began sales of the proof and uncirculated versions of the coin on May 29, 2008.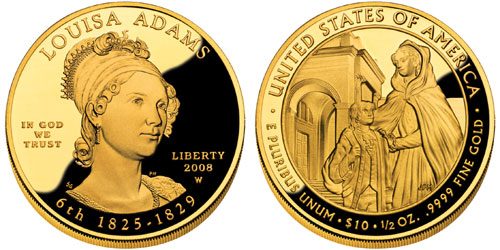 Initial pricing was the same as the prior issue at $619.95 for proofs and $599.95 for uncirculated coins. The U.S. Mint began sales with the same one per option per household ordering limit that had been used since the third issue of the series. At this point, the low limits were hardly necessary, as collector interest had declined.
The obverse of the 2008 Louisa Adams First Spouse Coin features a portrait of the First Lady designed by Susan Gamble and sculpted by Phebe Hemphill. The obverse inscriptions include "LOUISA ADAMS", "IN GOD WE TRUST", "LIBERTY", the order of the Presidency "6TH", the dates of the Presidential term "1825-1829", and the date and mint mark "2008 W".
The reverse features a scene of Louisa Adams and her young son Charles Adams making a journey across Europe. They were seeking to rejoin husband and father John Quincy Adams in Paris. The reverse inscriptions include "UNITED STATES OF AMERICA", "E PLURIBUS UNUM", the denomination "$10", the gold content "1/2 OZ.", and the gold purity ".9999 FINE GOLD". The reverse of the coin was designed by Donna Weaver and sculpted by Charles Vickers.
Many collectors who continued to pursue the First Spouse Gold Coins, switched their focus to the potential for low mintage issues. Comparisons were drawn to some low mintage gold commemorative coins issued in the 1990's, which had experienced significant secondary market price appreciation, despite the lukewarm receptions during the period of availability from U.S. Mint.
The Louisa Adams Gold Coins carried a maximum mintage of 40,000 coins across proof and uncirculated options. After approximately one year of availability, the final mintage reached 6,581 proof coins and 3,885 uncirculated coins. The combined total of 10,466 would remain the lowest of the series until subsequent issues starting in 2009 began to experience even lower sales.
Coin Specifications and Mintages
Date: 2008
Mint: West Point (W)
Mintage: 6,581 (proof), 3,885 (uncirculated)
Designers: Susan Gamble (obverse), Donna Weaver (reverse)
Composition: 0.9999 Gold
Weight: 0.5000 troy oz. (15.554 g)
Diameter: 1.041 inches (26.49 mm)
Thickness: 0.074 inches (1.88 mm)
2008 First Spouse Gold Coins

< Elizabeth Monroe | Andrew Jackson's Liberty >