The 2015 Mamie Eisenhower First Spouse Gold Coin (Buy on eBay) represented the second release of the year for the series honoring the First Ladies of the United States of America. Mamie Eisenhower was the wife of 5-Star General and President Dwight D. Eisenhower, who has been depicted on multiple coins as well as a circulating dollar coin series.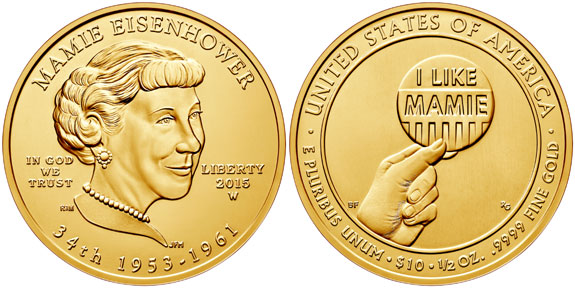 The obverse of the Mamie Eisenhower First Spouse Gold Coin features a three-quarter right facing portrait of the First Lady, which was designed by Richard Masters and engraved by Joseph Menna. The inscriptions include "MAMIE EISENHOWER", the motto "IN GOD WE TRUST", "LIBERTY", the date and mint mark "2015 W", the order of the Presidency "34TH", and the dates served "1953-1961".
The reverse design of the coin features the image of a woman's hand holding a political campaign button with the slogan "I LIKE MAMIE". This design refers to Mrs. Eisenhower's involvement in her husband's political campaign. Dwight D. Eisenhower had run for President under the slogan "I Like Ike" and while his wife accompanied him on whistle stop campaign tours, buttons reading "I Like Mamie, Too" had appeared. The reverse was designed by Barbara Fox and engraved by Renata Gordon. The inscriptions read "UNITED STATES OF AMERICA", "E PLURIBUS UNUM", "$10", and "1/2 OZ. .9999 FINE GOLD".
On May 7, 2015, the United States Mint began accepting orders for the Mamie Eisenhower First Spouse Gold Coins. The coins had been struck at the West Point Mint in proof and uncirculated qualities. For the start of sales, the proof version was priced at $790 and the uncirculated coin was priced at $770. These prices were based on an average weekly market price of gold within the $1,150 to $1,199.99 range. Throughout the period of availability, prices remained subject to potential change.
A maximum mintage of 10,000 pieces was established across proof and uncirculated versions of the coin. The U.S. Mint indicated that customer demand would determine the ratio of proof to uncirculated coins produced.
Both the proof and uncirculated versions would remain available for sale for the duration of 2015 and into the following year. The proof version eventually sold out in May 2016 with last reported sales of 2,704 pieces. The uncirculated version remained available for sale into the year 2017.
Coin Specifications and Mintages
Date: 2015
Mint: West Point (W)
Mintage: TBD
Designers: Richard Masters (obverse), Barbara Fox (reverse)
Composition: 0.9999 Gold
Weight: 0.5000 troy oz. (15.554 g)
Diameter: 1.041 inches (26.49 mm)
Thickness: 0.074 inches (1.88 mm)
2015 First Spouse Gold Coins

< Bess Truman | Jacqueline Kennedy >