The 24 karat gold coin series experienced an increase in demand with the release of the Andrew Jackson's Liberty First Spouse Gold Coin (Buy on eBay). This represented the third release of 2008 and the seventh release for the series overall.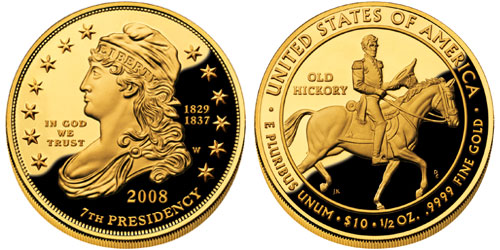 This issue represents one of the four components of the First Spouse Gold Coins Liberty Subset. Each of these coins was issued for a President who served in office without a spouse. Under the authorizing legislation, the obverse design of such coins is to bear a representation of Liberty taken from a circulating coin of the Presidential term.
The Andrew Jackson's Liberty Gold Coin features the obverse design of the Capped Bust Half Dollar. This series was issued from 1807 to 1836 with a lettered edge, and with a reeded edge and modified obverse design from 1836 to 1839. The former design by John Reich was used for the present coin. The obverse inscriptions include "LIBERTY", "IN GOD WE TRUST", "7TH PRESIDENCY", the dates of the Presidential term "1829-1837", the year of mintage "2008", and the mint mark "W".
On the reverse of the coin is an image of Andrew Jackson, the war hero, appearing in uniform and mounted on a horse. The reverse inscriptions include his nickname "OLD HICKORY", "UNITED STATES OF AMERICA", "E PLURIBUS UNUM", the denomination "$10", the gold content "1/2 OZ.", and the purity ".9999 FINE GOLD". The reverse was designed by Justin Kunz and sculpted by Don Everhart.
The Andrew Jackson's Liberty First Spouse Coins were available first available from sale from the U.S. Mint on August 28, 2008. The proof version was originally priced at $619.95, while uncirculated coins were $599.95. An initial household ordering limit of ten coins per option per household was imposed. This was a less strict limit than the prior issues, which had been limited to one per household upon initial release.
A maximum mintage of 40,000 coins was set across both product options. The proof version was available until August 17, 2009 and the uncirculated version was available until September 3, 2009. The final mintage figures provided by the U.S. Mint are 7,684 for the proof version and 4,609 for the uncirculated version. The total mintage exceeded the figure for the prior release, briefly reversing the trend of declining sales.
Coin Specifications and Mintages
Date: 2008
Mint: West Point (W)
Mintage: 7,684 (proof), 4,609 (uncirculated)
Designers: John Reich (obverse), Justin Kunz (reverse)
Composition: 0.9999 Gold
Weight: 0.5000 troy oz. (15.554 g)
Diameter: 1.041 inches (26.49 mm)
Thickness: 0.074 inches (1.88 mm)
2008 First Spouse Gold Coins

< Louisa Adams | Martin Van Buren's Liberty >