Although the First Spouse Gold Coin Program was created to honor the spouses of the Presidents, there are four coins within the series which feature depictions of Liberty taken from circulating coins of the era of the Presidency. The four coins carrying classic designs, which some have referred to as the "Liberty Subset", stand apart from the rest of the series and have become a focus of many collectors.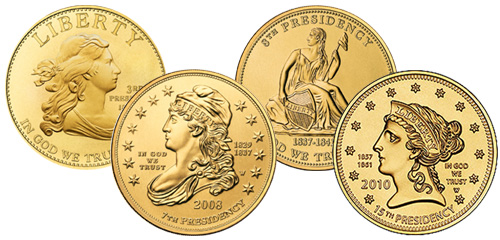 The authorizing legislation for the series provided specific requirements for the designs to be used in the situations when a President served in office without a spouse. The obverse design would feature an image emblematic of the concept of Liberty represented by a design taken from a coin issued during the years of the Presidential term. The reverse design would be emblematic of the themes of the Presidency.
The four issues of the "Liberty Subset" each reuse designs from U.S. coins from the 19th century, as listed below:
Mintages for each coin within the subset have varied. The Thomas Jefferson's Liberty First Spouse Gold Coin achieved a sell out of the maximum authorized mintage of 40,000, eventually reconciled to a combined final mintage of 39,638 across proof and uncirculated versions. The Jackson and Van Buren's Liberty First Spouse Gold Coins had final mintages of 12,293 and 10,633, respectively. The Buchanan's Liberty First Spouse Gold Coin saw a resurgence of interest as the subset was completed and reached a final mintage of 12,272 coins across proof and uncirculated versions.
The popularity of the subset seemed to increase following the release of the final coin. The four coins together make for an impressive display of classic coinage, struck in a composition of 24 karat gold.
It's worth noting that President Chester A. Arthur also served in office without a spouse, however, the authorizing legislation provides for a different type of design, rather than a depiction of Liberty. The obverse was required to feature a portrait of Alice Paul, a leading strategist in the suffrage movement, while the reverse was to carry a design representative of the movement.