The Julia Grant First Spouse Gold Coin (Buy on eBay) honors the spouse of Ulysses S. Grant, the 18th President of the United States of America. This represented the second release of the year for the 24 karat gold coin series.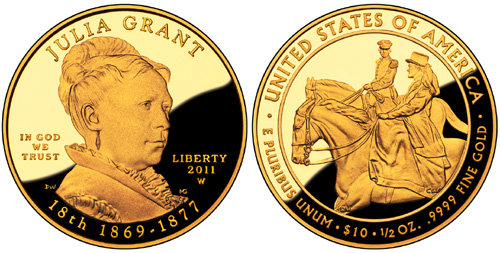 On the obverse of the coin is a portrait of the First Lady, designed by United States Mint Artistic Infusion Program Master Designer Donna Weaver. The required inscriptions surround the portrait, "JULIA GRANT", "IN GOD WE TRUST", "LIBERTY", "2011", "18TH", and "1869-1877".
The reverse of the Julia Grant First Spouse Coin provides a glimpse into the courtship of Julia Dent and Ulysses S. Grant. The two are shown on horseback, riding at the family plantation known as White Haven. The future President, then a West Point cadet, is shown in uniform. The design is by Artistic Infusion Program Master Designer Richard Masters. The inscriptions on the reverse include "UNITED STATES OF AMERICA", the motto "E PLURIBUS UNUM", "$10", and "1/2 OZ. .999 FINE GOLD".
Sales of the coin began at the United States Mint on June 23, 2011, with initial pricing of $929 for the proof and $916 for the uncirculated version. In the ensuing months, the market price of gold experienced a sharp increase, which brought prices as high as $1,054 and $1,041 respectively. The market price of gold subsequently fell, bringing prices lower, although still above initial pricing.
The maximum mintage established across both proof and uncirculated versions was 15,000, however as seen in recent years the U.S. Mint did not produce coins to the full extent of the maximum.
The proof version of the coin sold out on March 30, 2012 after just over nine months of availability. The final audited mintage for the proof coin was 3,943. The uncirculated version of the coin had continued to remain available for nearly another five months. A sell out finally occurred on August 28, 2012, with a final mintage of 2,892.
Coin Specifications and Mintages
Date: 2011
Mint: West Point (W)
Mintage: 2,892 (uncirculated), 3,943 (proof)
Designers: Donna Weaver (obverse), Richard Masters (reverse)
Composition: 0.9999 Gold
Weight: 0.5000 troy oz. (15.554 g)
Diameter: 1.041 inches (26.49 mm)
Thickness: 0.074 inches (1.88 mm)
2011 First Spouse Gold Coins

< Eliza Johnson | Lucy Hayes >