The 2015 Bess Truman First Spouse Gold Coin (Buy on eBay) represented the first release of the ninth year of the 24 karat gold coin series honoring the spouses of the Presidents. Overall, this represented the thirty-sixth release within the series.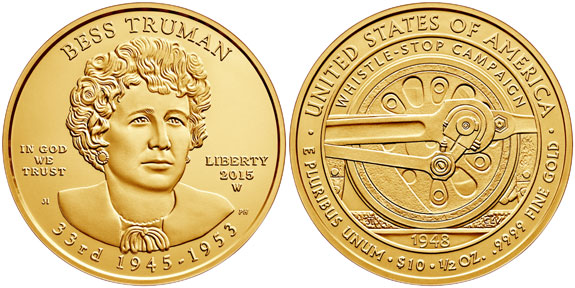 The obverse design of the coin features a portrait of the First Lady of President Harry S. Truman, designed by by Joel Iskowitz and engraved by Phebe Hemphill. The obverse inscriptions read "BESS TRUMAN", "IN GOD WE TRUST", "LIBERTY", "2015 W", "33RD", and "1945-1953". The latter two inscriptions indicate the order of the Presidency and the dates served.
The reverse design of the coin features a depiction of a locomotive wheel moving along railroad tracks. This image is intended to be symbolic of Mrs. Truman's support for her husband on his 1948 whistle stop campaign trip for re-election as President. The reverse was designed by Joel Iskowitz and engraved by Charles Vickers. The inscriptions within the main design read "WHISTLE-STOP COMPAIGN" and "1948". The inscriptions around the outer rim read "UNITED STATES OF AMERICA", "E PLURIBUS UNUM", "$10", and "1/2 OZ. .9999 FINE GOLD".
Sales for the Bess Truman First Spouse Gold Coins opened on April 16, 2015. For the start of sales, the coins were priced at $790 for the proof version and $770 for the uncirculated version based on an average market price of gold within the $1,150 to $1,199.99 range. The price of the coins remained subject to adjustment throughout the period of availability.
The United States Mint established a maximum mintage of 10,000 pieces across proof and uncirculated versions of the coin. As with other recent releases of the series, sales progressed slowly in the face of a low demand base. Both the proof and uncirculated version remained available for sale into the year 2017.
Coin Specifications and Mintages
Date: 2015
Mint: West Point (W)
Mintage: TBD
Designers: Joel Iskowitz (obverse and reverse)
Composition: 0.9999 Gold
Weight: 0.5000 troy oz. (15.554 g)
Diameter: 1.041 inches (26.49 mm)
Thickness: 0.074 inches (1.88 mm)
2015 First Spouse Gold Coins

< Eleanor Roosevelt | Mamie Eisenhower >