The Eliza Johnson First Spouse Gold Coin (Buy on eBay) began the fifth year of the series honoring the First Ladies of the United States. She was the wife of President Andrew Johnson, who served as the 17th President from 1865 to 1869.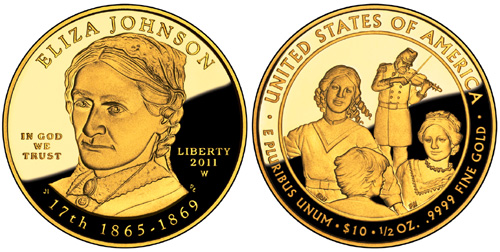 The obverse of the coin features a portrait of Eliza Johnson designed by Joel Iskowitz. The inscriptions include "ELIZA JOHNSON", "IN GOD WE TRUST", "LIBERT", the order of the Presidency "17TH", the dates of the term "1865-1869", the issue date, and the mint mark.
The reverse of the coin is intended to represent the First Lady's love of children. It features a scene from the children's ball held for President Andrew Johnson's 60th birthday. Three children are dancing and a Marine Band fiddler is present in the background. When the Citizens Coinage Advisory Committee reviewed design candidates, they believed that this option, in which the First Lady was not present, was a more symbolic representation of the event. The design was created by Gary Whitley. Reverse inscriptions around the outer edge of the coin include "UNITED STATES OF AMERICA", "E PLURIBUS UNUM", the nominal face value "$10", the gold content and fineness "1/2 OZ. .9999 FINE GOLD".
Sales of the Eliza Johnson First Spouse Gold Coins began at the United States Mint on May 5, 2011. Pricing established for the start of sales was $929 for the proof version and $916 for the uncirculated. These price levels were determined based on the average market price of gold leading up to the release and subject to adjustment throughout the duration of the offering. The maximum mintage was set at 15,000 pieces across both versions.
With the release of the following year's issues of the series delayed, the U.S. Mint continued sales of the Eliza Johnson First Spouse Gold Coins for more than one year from the original release date. The uncirculated version finally sold out on June 5, 2012 when no more coins remained available within inventory. A sell out of the proof version of the coin would follow on June 20.
The final mintages were 2,905 uncirculated coins and 3,887 proofs, for a combined total of 6,792. At the time, this established a fresh mintage low for the series, although it would prove to be short lived.
Coin Specifications and Mintages
Date: 2011
Mint: West Point (W)
Mintage: 2,905 (uncirculated), 3,887 (proof)
Designers: Joel Iskowitz (obverse), Gary Whitely (reverse)
Composition: 0.9999 Gold
Weight: 0.5000 troy oz. (15.554 g)
Diameter: 1.041 inches (26.49 mm)
Thickness: 0.074 inches (1.88 mm)
2011 First Spouse Gold Coins

< Mary Todd Lincoln | Julia Grant >