Florence Harding served as First Lady from 1921 until 1923 as the wife of the 29th President, Warren G. Harding. The 2014 Florence Harding First Spouse Gold Coin (Buy on eBay) represented the first release of the eighth year of the 24 karat gold coin program honoring the spouses of the Presidents. Overall, the coin represented the thirty-second release of the program.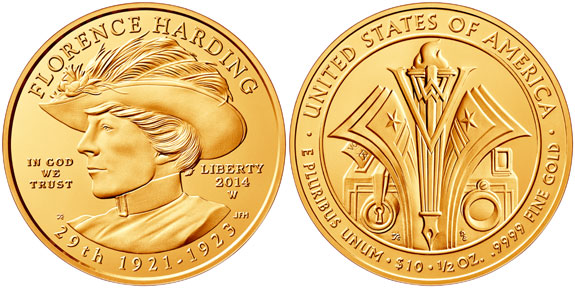 The obverse of the coin features a left-facing portrait of the First Lady designed by Thomas Cleveland and engraved by Joseph Menna. The inscriptions include "FLORENCE HARDING", "IN GOD WE TRUST", "LIBERTY", the date "2014", the order of the Presidency "29TH", and the dates served "1921-1923".
The reverse features a multifaceted image representing significant aspects of Florence Harding's role and accomplishments as First Lady. The initials "WWV" at the top of a lit torch signify her role in championing the cause of World War I veterans. The torch transitions to a pen at the base to signify her extensive correspondence with veterans, spouses, and widows. The image of a camera appears at right to represent Mrs. Harding's role in orchestrating photo opportunities to support her husband's presidential campaign. A ballot box appears at left to represent her distinction as the first First Lady to cast a vote for a presidential candidate in an election. The reverse was designed by Thomas Cleveland and engraved by Joseph Menna.
Sales for the Florence Harding First Spouse Gold Coin opened on July 10, 2014. The initial pricing for the coins was $865 for the proof version and $845 for the uncirculated version based on an average market price of gold within the $1,300 to $1,349.99 range. Throughout the course of the offering the price was adjusted based on changes in the market price of gold.
A maximum mintage of 10,000 pieces was established across proof and uncirculated versions of the coin. This matched the level established for the prior year releases of the series.
The coins would remain available well into the following year, although the velocity of sales was slow. When the United States Mint declared a sell out, the last reported sales measured 2,372 proofs and 1,944 uncirculated coins.
Coin Specifications and Mintages
Date: 2014
Mint: West Point (W)
Mintage: 1,944 (uncirculated), 2,372 (proof)
Designers: Thomas Cleveland (obverse and reverse)
Composition: 0.9999 Gold
Weight: 0.5000 troy oz. (15.554 g)
Diameter: 1.041 inches (26.49 mm)
Thickness: 0.074 inches (1.88 mm)
2014 First Spouse Gold Coins

< Edith Wilson | Grace Coolidge >