The series of 24 karat gold coins honoring the spouses of the Presidents began with the Martha Washington First Spouse Gold Coin (Buy on eBay). The issue was met with particularly high demand from collectors, which led to a prompt sell out.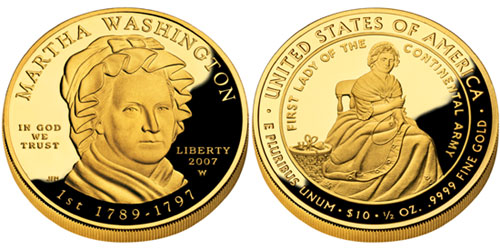 The First Spouse Gold Coins represented the first time that the United States Mint issued a consecutive coin program featuring women, and the first time a face value of $10 was used for a one-half ounce gold coin. Similar to the American Gold Buffalo introduced in the previous year, the coins were struck in .9999 purity or 24 karat gold.
Initially, the U.S. Mint planned to release all of the year's coins simultaneously within a multi-coin set, but the expected high interest from collectors resulted in a change of plans. The Martha Washington and Abigail Adams gold coins were released together on June 19, 2007. The two remaining issues for 2007 and subsequent years were released individually.
The obverse of the Martha Washington First Spouse Gold Coin features her portrait as designed and sculpted by Joseph Menna. She served as First Lady from 1789 to 1797 during the Presidency of her husband George Washington. The obverse inscriptions include "MARTHA WASHINGTON", "IN GOD WE TRUST", "LIBERTY", the order of the Presidency "1ST", the dates of the Presidential term "1789-1797", and the date and mint mark "2007 W".
The reverse of the coin depicts a younger Martha Washington sewing a button onto her husband's uniform jacket. She showed great concern for soldiers during the Revolutionary War and is known for having organized sick wards, repairing uniforms, and encouraging others to support the troops. The reverse inscriptions include "UNITED STATES OF AMERICA", "E PLURIBUS UNUM", "FIRST LADY OF THE CONTINENTAL AMRY", the denomination "$10", the gold content "1/2 OZ.", and the purity ".9999 FINE GOLD". The reverse was designed by Susan Gamble and sculpted by Don Everhart.
Martha Washington First Spouse Coins were offered in both proof and uncirculated versions. The proof version was originally priced at $429.95 and the uncirculated version was priced at $410.95. On the day of release, the market price of gold was $656.30 per ounce.
A combined maximum mintage for the coins was established at 40,000 units. By the end of the first day of sales, orders had been received for this entire amount and a sell out was announced. Final audited mintage figures were ultimately lower than the maximum at 17,661 uncirculated coins and 19,167 proofs.
Coin Specifications and Mintages
Date: 2007
Mint: West Point (W)
Mintage: 19,167 (proof), 17,661 (uncirculated)
Designers: Joseph Menna (obverse), Susan Gamble (reverse)
Composition: 0.9999 Gold
Weight: 0.5000 troy oz. (15.554 g)
Diameter: 1.041 inches (26.49 mm)
Thickness: 0.074 inches (1.88 mm)
2007 First Spouse Gold Coins