In accordance with the authorizing legislation for the First Spouse Gold Coin Program, a $10 gold coin was issued for Alice Paul and the Suffrage Movement. This issue represented the 21st President Chester Arthur, who served in office without a spouse during a single term from 1881 to 1885.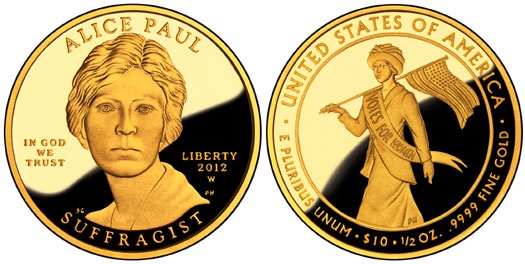 Alice Paul was a leading strategist in the Suffrage Movement, which ultimately resulting in women obtaining the right to vote with the adoption of the 19th Amendment to the Constitution. She was born on January 15, 1885, during the Presidential term of President Chester Arthur.
The obverse design of the Alice Paul Suffragist Gold Coin (Buy on eBay) features her portrait, with inscriptions indicating her name, the word "SUFFRAGIST", the motto "IN GOD WE TRUST", "LIBERTY", and the date of issue. The reverse design depicts her participating in a marching event within the suffrage movement, carrying an American flag and wearing a banner "VOTES FOR WOMEN". Inscriptions around the outer edge include "UNITED STATES OF AMERICA", "E PLURIBUS UNUM", the legal tender face value, and the weight and purity of the gold content. Both the obverse and reverse were designed and sculpted by Susan Gamble.
The final design selections were announced by the United States Mint in April 2012, however the release of the coins was delayed until very late in the year due to striking problems.
The coins would eventually go on sale October 11, 2012, with the initial pricing of $1,054 for the proof version and $1,041 for the uncirculated version of the coin. The coins remained available for sale well into the following year, with pricing adjusted based on the weekly average price of gold. A significant drop in gold brought the product prices as low as $840 and $820 for the proof and uncirculated versions, respectively.
The maximum mintage across both versions was set at 13,000 pieces. This represented a reduction of 2,000 from the maximum mintage levels established for the prior year coins. The proof version of the coin sold out on July 16, 2013, with last reported sales of 3,505 units. Sales of the uncirculated version continued until the end of 2013, reaching last reported sales of 2,798.
Coin Specifications and Mintages
Date: 2012
Mint: West Point (W)
Mintage: 2,798 (uncirculated), 3,505 (proof)
Designer: Susan Gamble
Composition: 0.9999 Gold
Weight: 0.5000 troy oz. (15.554 g)
Diameter: 1.041 inches (26.49 mm)
Thickness: 0.074 inches (1.88 mm)
2012 First Spouse Gold Coins

< Lucretia Garfield | Frances Cleveland (1st Term) >