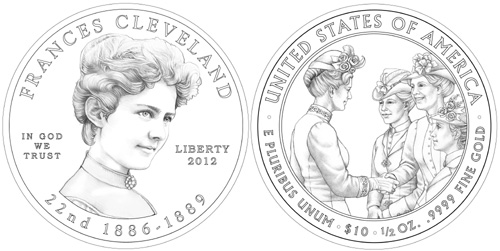 The Frances Cleveland First Spouse Gold Coin will be issued in 2012 to honor the spouse of the 22nd President of the United States Grover Cleveland. This will be the twenty-third one-half ounce 24 karat gold coin release for the series. Although long delayed, the US Mint has committed to minting and issuing the coins this year, as required by law.
President Grover Cleveland had entered the White House as a bachelor, but soon married Frances Folsom Cleveland. At the time, she was 21 years of age and remains the youngest First Lady in history. Her beauty and charm won over public opinion, despite her young age.
The obverse design of the coin features a portrait with the required inscriptions. These include her name, the order of the Presidency "22nd", the dates of the term "1886-1889", "In God We Trust", "Liberty", and the date.The obverse was designed by Joel Iskowitz and sculpted by Don Everhart.
On the reverse of the coin appears a scene of the First Lady at the working women's receptions held at the White House. Inscriptions include "United States of America", "E Pluribus Unum", the legal tender denomination of "$10", and the precious metal weight and purity. The reverse was designed by Barbara Fox and sculpted by Michael Gaudioso.
The United States Mint experienced striking problems for the coin, which delayed the release from the originally anticipated time frame. A release date has not yet been established, but is expected to be available soon. The maximum mintage across proof and uncirculated mintages will be 13,000 coins.
Frances Cleveland will actually be featured on two different coins of the series, since her husband served as President during two nonconsecutive terms. Her second coin is issued for the 24th Presidency, released near the end of 2012.
Frances Cleveland First Spouse Coin Specifications
Date: 2012
Mint: West Point (W)
Mintage: TBD
Designers: TBD
Composition: 0.9999 Gold
Weight: 0.5000 troy oz. (15.554 g)
Diameter: 1.041 inches (26.49 mm)
Thickness: 0.074 inches (1.88 mm)