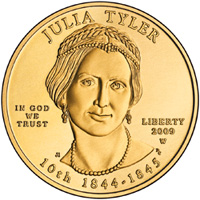 The mintage figures of the First Spouse Gold Coins have been the focus of many collectors. After the first three issues of the series experienced strong demand leading to sell outs, subsequent releases underwent a dramatic decline in sales. This has resulted in final mintages at both ends of the spectrum.
Maximum mintages have been established for each release of the series prior to the start of sales. The level was set at 40,000 for the first three years, but reduced to lower levels for the fourth and subsequent years. Initially, sales of each release continued until the maximum authorized mintage has been sold or for approximately one year. In more recent years, delayed initial release dates have made the schedule more erratic.
During the course of the series, there have been a number of unexpected early sell outs, resulting from the US Mint's underestimation of quantities needed to fulfill demand for the entire sales cycle.
To date, the lowest final mintage for the series has occurred for the uncirculated version of the Lucretia Garfield First Spouse Gold Coin with a final audited mintage of 2,168. In addition to representing the low for the series, this also represents the lowest mintage for any United States Mint modern gold coin. This recent new low has once again captured the attention of collectors, however it is always possible that subsequent releases will see mintage levels fall even further.
The first table below presents final mintage figures provided by the United States Mint. The second table includes the last reported sales figures for issues where the Mint has not yet released the final mintages. The data below was last updated June 2014.
The most recent figures can be found on the latest Coin Update News numismatic sales report.
Final Mintages
| | | | |
| --- | --- | --- | --- |
| | Uncirculated | Proof | Total |
| 2007 Martha Washington | 17,661 | 19,167 | 36,828 |
| 2007 Abigail Adams | 17,142 | 17,149 | 34,291 |
| 2007 Thomas Jefferson's Liberty | 19,823 | 19,815 | 39,638 |
| 2007 Dolley Madison | 12,340 | 17,943 | 30,283 |
| | | | |
| 2008 Elizabeth Monroe | 4,462 | 7,800 | 12,262 |
| 2008 Louisa Adams | 3,885 | 6,581 | 10,466 |
| 2008 Andrew Jackson's Liberty | 4,609 | 7,684 | 12,293 |
| 2008 Martin Van Buren's Liberty | 3,826 | 6,807 | 10,633 |
| | | | |
| 2009 Anna Harrison | 3,645 | 6,251 | 9,896 |
| 2009 Letitia Tyler | 3,240 | 5,296 | 8,536 |
| 2009 Julia Tyler | 3,143 | 4,844 | 7,987 |
| 2009 Sarah Polk | 3,489 | 5,151 | 8,640 |
| 2009 Margaret Taylor | 3,627 | 4,936 | 8,563 |
| | | | |
| 2010 Abigail Fillmore | 3,482 | 6,130 | 9,612 |
| 2010 Jane Pierce | 3,338 | 4,775 | 8,113 |
| 2010 James Buchanan's Liberty | 5,162 | 7,110 | 12,272 |
| 2010 Mary Todd Lincoln | 3,695 | 6,861 | 10,556 |
| | | | |
| 2011 Eliza Johnson | 2,905 | 3,887 | 6,792 |
| 2011 Julia Grant | 2,892 | 3,943 | 6,835 |
| 2011 Lucy Hayes | 2,196 | 3,868 | 6,064 |
| 2011 Lucretia Garfield | 2,168 | 3,653 | 5,821 |
| | | | |
Last Reported Sales Figures
| | | | |
| --- | --- | --- | --- |
| | Uncirculated | Proof | Total |
| 2012 Alice Paul | 2,798 | 3,505 | 6,303 |
| 2012 Frances Cleveland 1st | 2,454 | 3,158 | 5,612 |
| 2012 Caroline Harrison | 2,436 | 3,046 | 5,482 |
| 2012 Frances Cleveland 2nd | 2,425 | 3,104 | 5,529 |