The third release of the First Spouse Gold Coin Program for 2012 featured Caroline Harrison, the spouse of the 23rd President Benjamin Harrison. The series has featured the spouses of each President on one-half ounce 24 karat gold coins.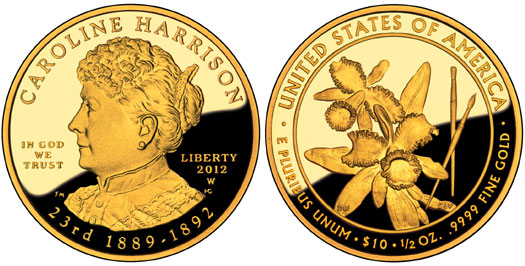 While serving as First Lady, Caroline Harrison secured appropriations from Congress to perform some much needed renovations to the White House and install electricity. She was known for her elegant receptions and dinners, as well as conducting china-painting classes. Sadly, she passed away on October 25, 1892, while her husband was still in office.
The Caroline Harrison First Spouse Gold Coin (Buy on eBay) features her portrait on the obverse with the inscriptions indicating her name, order of the Presidency, and dates served as First Lady. The obverse was designed by Frank Morris and sculpted by Michael Gaudioso. The reverse design selected for the coin features an orchid and paint brushes to represent the First Lady's interest in china-painting. The reverse was designed by Donna Weaver and sculpted by Charles Vickers.
After announcing design selections for the 2012 First Spouse Gold Coins in April, the United States Mint provided no further details regarding release dates for specific coins. Later in the year, it was revealed that striking problems for the first two issues of the year had delayed the release for all four of the year's coins. The Caroline Harrison First Spouse Coins would not be released until very late in the year on December 6, 2012.
Initial pricing for the coins was established at $1,029 for the proofs and $1,016 for the uncirculated coins based on an average market price of gold within the $1,700 to $1749.99 range. During the course of the offering, prices would be adjusted based on changes in the weekly average market price of gold. This resulted in significantly lower pricing as the coins continued to be offered in the following year.
A maximum mintage of 13,000 coins was established across both versions of the coin. The coins remained available for sale until December 31, 2013, reaching last reported sales of 2,436 uncirculated and 3,046 proof coins.
Coin Specifications and Mintages
Date: 2012
Mint: West Point (W)
Mintage: 2,436 (uncirculated), 3,046 (proof)
Designers: Frank Morris (obverse), Donna Weaver (reverse)
Composition: 0.9999 Gold
Weight: 0.5000 troy oz. (15.554 g)
Diameter: 1.041 inches (26.49 mm)
Thickness: 0.074 inches (1.88 mm)
2012 First Spouse Gold Coins

< Frances Cleveland (1st Term) | Frances Cleveland (2nd Term) >