The 2013 Edith Wilson First Spouse Gold Coin (Buy on eBay) represented the fifth and final release of the year for the series. This completed the rapid release of the five different coins within a just over one month's time, due to production problems encountered earlier in the year.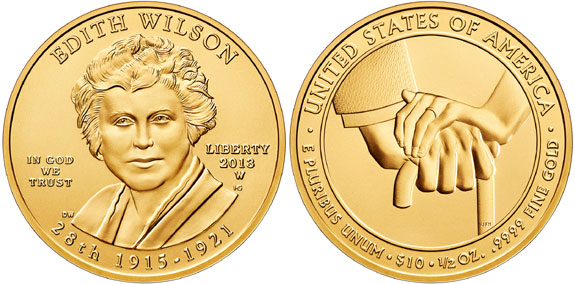 Edith Wilson was the second wife of President Woodrow Wilson. His first wife Ellen Wilson, who had served as First Lady from 1913 until her death in 1914, had been honored on the prior release of the series. Edith Wilson became his second wife in 1915 and served as First Lady until the completion of his second Presidential term in 1921.
The obverse of the coin features a front facing portrait of the First Lady designed by David Westwood and engraved by Michael Gaudioso. The portrait is surrounded by the required inscriptions of the name "EDITH WILSON", the motto "IN GOD WE TRUST", "LIBERTY", the date and mint mark "2013 W", the order of the Presidency "28TH", and the dates served in office "1915-1921".
On the reverse is the image of Mrs. Wilson supporting her husband who had suffered a massive stroke while in office. Her hand rests upon his, which holds a cane. The reverse was designed and engraved by Joseph Menna. The inscriptions include "UNITED STATES OF AMERICA", the motto "E PLURIBUS UNUM", the denomination "$10", the the precious metal weight and purity of "1/2 OZ. .9999 FINE GOLD".
Sales for the coin opened on December 16, 2013, just a week after the prior release of the series. The coins were initially priced at $815 for the proof version and $795 for the uncirculated version. This price level was based on an average price of gold within the $1,200 to $1,249.99 range. Pricing remained subject to potential change throughout the course of the offering.
The maximum mintage was established at 10,000 pieces across both proof and uncirculated versions, with the exact ratio minted based on customer demand.
The Edith Wilson First Spouse Gold Coins would remain available throughout the following year and even into 2015. When the coins were finally removed from availability, the last reported sales measured 1,974 uncirculated and 2,464 proof coins. These figures established new mintage lows for the series to date.

Coin Specifications and Mintages
Date: 2013
Mint: West Point (W)
Mintage: 1,974 (uncirculated), 2,464 (proof)
Designers: David Westwood (obverse), Joseph Menna (reverse)
Composition: 0.9999 Gold
Weight: 0.5000 troy oz. (15.554 g)
Diameter: 1.041 inches (26.49 mm)
Thickness: 0.074 inches (1.88 mm)
2013 First Spouse Gold Coins

< Ellen Wilson | Florence Harding >