Representing the first release of the year and the fifth release of the series overall, the Elizabeth Monroe First Spouse Gold Coin (Buy on eBay) went on sale at the United States Mint February 28, 2008.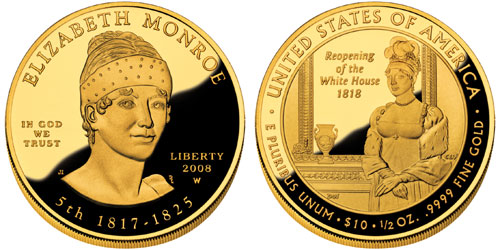 Interest in the new series of one-half ounce 24 karat gold coins had already begun to fade by this release. The collector base had been diminished by the rising issue prices of the coins, low secondary market premiums for the earlier issues, and the natural tendency for collectors to drop out of a new series as it continues. Those who continued to collect the First Spouse Gold Coins would switch their emphasis from quick sell outs, to the potential for low mintages.
The Elizabeth Monroe Gold Coin obverse featured her portrait designed by Joel Iskowitz and sculpted by Don Everhart. She had served as First Lady from 1817 to 1825 during the Presidency of her husband James Monroe. The obverse inscriptions include "ELIZABETH MONROE", "IN GOD WE TRUST", "LIBERTY", the order of the Presidency "5TH", the dates of the Presidential term "1817-1825", and the date and mint mark "2008 W".
The reverse of the coin features Elizabeth Monroe at the reception for the reopening of the White House in 1818. The White House had been burned by British troops during the War of 1812, and the First Lady had been instrumental in the refurbishing process. Inscriptions include "UNITED STATES OF AMERICA", "E PLURIBUS UNUM", "REOPENING THE WHITE HOUSE 1818", the denomination, gold content, and purity. The reverse of the coin was designed by Donna Weaver and sculpted by Charles Vickers.
Elizabeth Monroe First Spouse Coins were offered in both proof and uncirculated formats, limited to 40,000 across both options. At the start of sales, the proof version was priced at $619.95 and the uncirculated version was priced at $599.95. The US Mint imposed ordering limits of one per option per household, but after significant demand failed to materialize, the limits were removed.
The coins remained available for sale for approximately one year from the original release date. The U.S. Mint reported a final combined mintage of 12,262, comprised of 4,462 uncirculated coins and 7,800 proof coins.
Coin Specifications and Mintages
Date: 2008
Mint: West Point (W)
Mintage: 7,800 (proof), 4,462 (uncirculated)
Designers: Joel Iskowitz (obverse), Charles Vickers (reverse)
Composition: 0.9999 Gold
Weight: 0.5000 troy oz. (15.554 g)
Diameter: 1.041 inches (26.49 mm)
Thickness: 0.074 inches (1.88 mm)
2008 First Spouse Gold Coins

< Dolley Madison | Louisa Adams >