For a second year, the release of the First Spouse Gold Coins was delayed due to production problems at the United States Mint. After a delayed design review and selection process, the Mint revealed that they were experiencing a problem known as "finning", whereby excess metal can build up at the edges of the coin when pressed causing a bottle capping effect. The combined delays pushed the release dates for the year's coins well into the fourth quarter.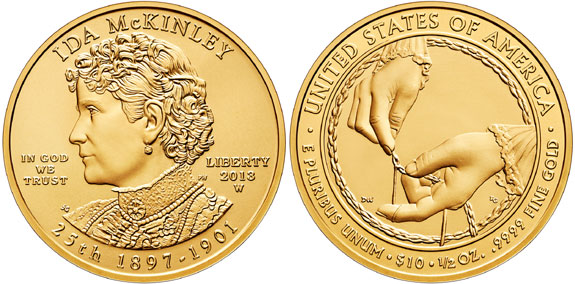 The 2013 Ida McKinley First Spouse Gold Coin (Buy on eBay) went on sale November 14, 2013. The obverse of the coin featured a portrait of the First Lady designed by Susan Gamble and sculpted by Phebe Hemphill. The inscriptions included "IDA MCKINLEY" above, "IN GOD WE TRUST" at left, "LIBERTY" and the "2013" date at right, and "25TH 1897-1901" below.
The reverse of the coin, designed by Donna Weaver and sculpted by Renata Gordon, featured an image of two hands crocheting. This was intended to be representative of Ida McKinley's work in crocheting thousands of slippers which were auctioned to raise money for charity. The inscriptions around the circumference include "UNITED STATES OF AMERICA", "E PLURIBUS UNUM", "$10", "1/2 OZ.", and ".9999 FINE GOLD".
At the start of sales, the coins were priced at $840 for the proof version and $820 for the uncirculated version. This represented the lowest initial pricing for the series in several years due to a drop in the market price of gold. Throughout the availability period, pricing would be adjusted based on the weekly average price of the metal.
The Ida McKinley First Spouse Coins carried a maximum mintage of 10,000 pieces across the proof and uncirculated versions. This represented a reduction from the 13,000 maximum established for the prior year releases of the series.
Sales for the coins continued into the following year and then into 2015. Throughout the lengthy sales period, the pace of sales remained slow. When inventories were finally depleted, the last reported sales reached 2,008 uncirculated and 2,724 proof coins. Sales levels for each of the 2013-dated issues would come in at similar levels, establishing new mintage lows for the series.
Coin Specifications and Mintages
Date: 2013
Mint: West Point (W)
Mintage: 2,008 (uncirculated), 2,724 (proof)
Designers: Susan Gamble (obverse), Donna Weaver (reverse)
Composition: 0.9999 Gold
Weight: 0.5000 troy oz. (15.554 g)
Diameter: 1.041 inches (26.49 mm)
Thickness: 0.074 inches (1.88 mm)
2013 First Spouse Gold Coins

< Frances Cleveland (2nd Term) | Edith Roosevelt >