The Mary Todd First Spouse Gold Coin (Buy on eBay) honors one of the better known First Ladies of the United States. Demand for this issue was expected to be higher than normal, which led the United States Mint to establish a higher maximum authorized mintage.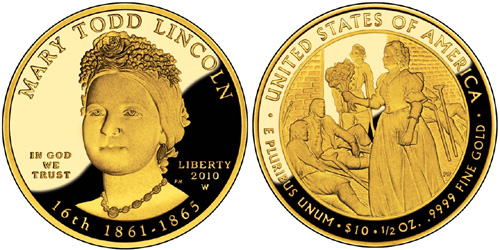 Sales of the coin began on December 2, 2010 with proof and uncirculated versions available. The initial pricing was $854 for proofs and $841 for uncirculated coins, with the prices subject to potential change weekly, following the average market price of gold. No household ordering limits were imposed, but the maximum mintage was set at 20,000 coins. This was 5,000 higher than the level established for the other 2010 releases of the series.
The Mary Todd Lincoln First Spouse Gold Coin features her portrait on the obverse, as designed and sculpted by Phebe Hemphill. The coin carries required inscriptions "MARY TODD LINCOLN", the order of the Presidency "16TH", years as First Lady "1861-1865", "IN GOD WE TRUST", "LIBERTY", and the date of issue and mint mark.
On the reverse of the coin is a scene of the First Lady bringing books and flowers to wounded Union soldiers. Inscriptions appear surrounding the image reading "UNITED STATES OF AMERICA", "E PLURIBUS UNUM", "$10", and "1/2 OZ. .999 FINE GOLD". The reverse was designed by Joel Iskowitz and sculpted by Phebe Hemphill.
Alternate designs prepared by the United States Mint as candidate designs included a scene of President Abraham Lincoln and Mary Todd Lincoln greeting visitors at a public reception and a scene of her bandaging a wounded soldier. A member of the Citizens Coinage Advisory Committee questioned whether the scene of her bandaging a soldier was historically accurate.
After just over six months of availability, the uncirculated version of the 2010 Mary Todd Lincoln $10 Gold Coin sold out at the United States Mint. With a final mintage of just 3,695, this version would seem to have the potential for higher prices on the secondary market, particularly if higher demand emerges for this well-known First Lady. Sales of the proof version of the coin continued until November 9, 2011, with a final mintage of 6,861 pieces recorded. This made for a combined mintage total of 10,556 across both versions of the coin.
Coin Specifications and Mintages
Date: 2010
Mint: West Point (W)
Mintage: 3,695 (uncirculated), 6,861 (proof)
Designers: Phebe Hemphill (obverse), Joel Iskowitz (reverse)
Composition: 0.9999 Gold
Weight: 0.5000 troy oz. (15.554 g)
Diameter: 1.041 inches (26.49 mm)
Thickness: 0.074 inches (1.88 mm)
2010 First Spouse Gold Coins

< James Buchanan's Liberty | Eliza Johnson >