Since the start of the First Spouse Gold Coin series, the U.S. Mint has been issuing Bronze Medals bearing duplicate designs. Each medal features the same basic design as the corresponding gold coin, but with the mottoes and inscriptions referencing to the denomination, gold content, and issue date removed. The medals have been produced by the Philadelphia Mint, although no mint mark is present. They measure 1- 5/16 inches in diameter. The bronze composition is a mixture of copper and zinc.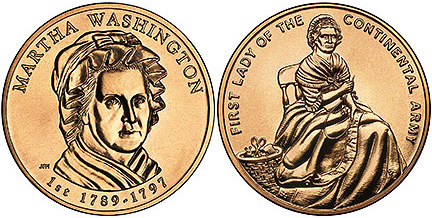 These bronze medals were authorized under the same enabling legislation Public Law 109-145. A section of the law provides the Secretary of the Treasury with the authority to strike and sell bronze medals that bear the likeness of the gold coins. Under the law, the price, size, weight, and inscriptions are left to the discretion of the Secretary.
Throughout the series, the bronze medals have been offered in differing formats, with widely varied mintages and periods of availability. Products have included individual medals, packaged sets containing all of the medals for the year, and the Presidential $1 Coin & First Spouse Medal Set. After the initial years of the program, the individually packaged medals were discontinued, leaving only the two set options.
Certain First Spouse Bronze Medal products have remained available for extended periods of time, while others have sold out quickly. The Presidential $1 Coin & First Spouse Medal Sets from earlier years, as well as multiple products from later years of the series experienced quick and unexpected sell outs, boosting secondary market prices.
In 2007, the bronze medal series produced an interesting error for collectors. Some of the 2007 First Spouse Bronze Four Medal Sets contained an Abigail Adams medal struck with the reverse of a Louisa Adams medal. When the obverse of a coin is matched with an improper reverse, this is known as a "mule error". Examples of the Adams/Adams Mule Error Medal have sold for up to $600 online.