The Letitia Tyler First Spouse Gold Coin (Buy on eBay) represented the tenth overall release of the series and the second of five coins to be released during the year. It was also one of two different First Spouse Coins to be issued for the 10th Presidency.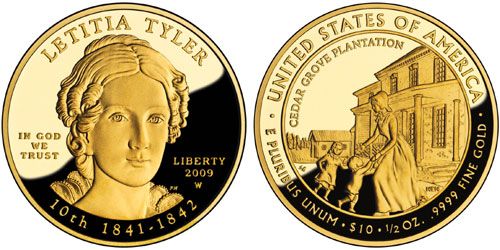 After briefly serving as the Second Lady of the United States, Letitia Tyler became the First Lady from 1841 to 1842 after her husband John Tyler assumed the Presidency. Letitia Tyler would pass away on September 10, 1842 at the age of 51, making her the youngest First Lady to die. Her husband remarried in 1844 while he was still President, resulting in a separate coin issued for his second wife Julia Tyler.
The obverse of the Letitia Tyler First Spouse Coin carries her portrait as designed and sculpted by Phebe Hemphill. Inscriptions include "LETITIA TYLER", "IN GOD WE TRUST", "LIBERTY", the order of the Presidency "10TH", the years she served as First Lady "1841-1842", and the date and mint mark "2009 W".
The reverse of the coin features Letitia Tyler with two of her children on Cedar Grove Plantation. She successfully ran the 1,200 acre plantation, allowing her husband to focus on his political career. The reverse inscriptions include "CEDAR GROVE PLANTATION", "UNITED STATES OF AMERICA", "E PLURIBUS UNUM", the denomination "$10", and the gold content and purity "1/2 OZ. .9999 FINE GOLD". This side of the coin was designed by Susan Gamble and sculpted by Norman E. Nemeth.
The United States Mint offered the Letitia Tyler Coins for sale starting on July 2, 2009. Proof and uncirculated finishes were available, with a maximum mintage of 40,000 established across both options. This was the same maximum used for each release of the series so far, despite the dramatically reduced sales of recent issues. Initial pricing for the coins was $629.00 and $614.00 for the proof and uncirculated versions, respectively.
The coins remained available for sale until June 3, 2010. During the period of availability, the U.S. Mint price was changed on several occasions to reflect changes in the market price of gold. After the eleven months of availability, the final mintages reached 5,296 proof coins and 3,240 uncirculated coins.

Coin Specifications and Mintages
Date: 2009
Mint: West Point (W)
Mintage: 5,296 (proof), 3,240 (uncirculated)
Designers: Phebe Hemphill (obverse), Susan Gamble (reverse)
Composition: 0.9999 Gold
Weight: 0.5000 troy oz. (15.554 g)
Diameter: 1.041 inches (26.49 mm)
Thickness: 0.074 inches (1.88 mm)
2009 First Spouse Gold Coins
< Anna Harrison | Julia Tyler >