The Martin Van Buren's Liberty First Spouse Gold Coin (Buy on eBay) represents one of the four issues of the Liberty Subset. These coins feature depictions of Liberty from classic United States coins for instances in which Presidents served in office without a spouse. This issue had the lowest overall mintage within the subset.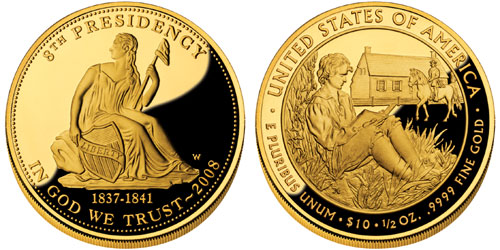 The Van Buren's Liberty Gold Coin represented the final release of the series for the year and the eighth release of the series overall. Sales officially began at the United States Mint on November 25, 2008. Pricing was set at $549.95 and $524.95 for the proof and uncirculated versions, respectively. This represented a decreased level from the prior release, due to the lower market price of gold. Ordering limits were set at ten coins per option per household.
The obverse of the coin features the design which originally appeared on the Liberty Seated Dime, minted between 1837 and 1891. The obverse inscriptions include "LIBERTY", "8THE PRESIDENCY", "IN GOD WE TRUST – 2008", the dates of the Presidential term "1837-1841", and the mint mark "W". The obverse was designed by Christian Gobrecht.
The reverse of the coin features a young Martin Van Buren reading a book under a tree. In the background is the tavern operated by his family in Kinderhook, New York. The reverse inscriptions include "UNITED STATES OF AMERICA", "E PLURIBUS UNUM", the denomination "$10", and the gold content and purity "1/2 OZ. .9999 FINE GOLD". The reverse was designed by Thomas Cleveland and sculpted by Jim Licaretz.
Sales of the Martin Van Buren's Liberty Gold Coin ended on December 3, 2009. Out of a maximum authorized mintage of 40,000, the U.S. Mint reported final mintages of 6,807 proof coins and 3,826 uncirculated coins. The total of 10,633 was lower than the prior Andrew Jackson's Liberty First Spouse Gold Coin, but still above the next previous release featuring Louisa Adams.
Coin Specifications and Mintages
Date: 2008
Mint: West Point (W)
Mintage: 6,807 (proof), 3,826 (uncirculated)
Designers: John Reich (obverse), Justin Kunz (reverse)
Composition: 0.9999 Gold
Weight: 0.5000 troy oz. (15.554 g)
Diameter: 1.041 inches (26.49 mm)
Thickness: 0.074 inches (1.88 mm)
2008 First Spouse Gold Coins

< Andrew Jackson's Liberty | Anna Harrison >