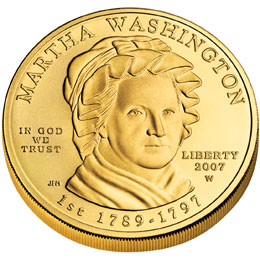 Under the authorizing legislation for the First Spouse Gold Coin Program, coins were to be issued for any spouse of a President being honored on a Presidential Dollar. Additionally, coins featuring a depiction of Liberty were to be issued for any President who served in office without a spouse.
This resulted in the release of four different coins per year, with the exception of 2009 and 2013. For each of these two years, one of the Presidents had a first and second wife during their time in office, necessitating an additional coin. The final year of the series saw the issuance of three coins for eligible spouses.
Release dates for the First Spouse Gold Coins were generally revealed by the United States Mint during the year of issue. Except for the first two coins of the series, which were released together, coins have been released individually at intervals throughout the year.
The table below presents the release schedule for the entire series of First Spouse Gold Coins.
Release Schedule
| | | | |
| --- | --- | --- | --- |
| Year | First Spouse | Years Served | Release Date |
| 2007 | Martha Washington | 1789-1797 | June 19, 2007 |
| 2007 | Abigail Adams | 1797-1801 | June 19, 2007 |
| 2007 | Thomas Jefferson's Liberty | 1801-1809 | August 30, 2007 |
| 2007 | Dolley Madison | 1809-1817 | November 19, 2007 |
| | | | |
| 2008 | Elizabeth Monroe | 1817-1825 | February 28, 2008 |
| 2008 | Louisa Adams | 1825-1829 | May 29, 2008 |
| 2008 | Andrew Jackson's Liberty | 1829-1837 | August 28, 2008 |
| 2008 | Martin Van Buren's Liberty | 1837-1841 | November 25, 2008 |
| | | | |
| 2009 | Anna Harrison | 1841 | March 5, 2009 |
| 2009 | Letitia Tyler | 1841-1842 | July 2, 2009 |
| 2009 | Julia Tyler | 1844-1845 | August 6, 2009 |
| 2009 | Sarah Polk | 1845-1849 | September 3, 2009 |
| 2009 | Margaret Taylor | 1849-1850 | December 3, 2009 |
| | | | |
| 2010 | Abigail Fillmore | 1850-1853 | March 18, 2010 |
| 2010 | Jane Pierce | 1853-1857 | June 3, 2010 |
| 2010 | James Buchanan's Liberty | 1857–1861 | September 2, 2010 |
| 2010 | Mary Todd Lincoln | 1861-1865 | December 2, 2010 |
| | | | |
| | | | |
| --- | --- | --- | --- |
| 2011 | Eliza Johnson | 1865-1869 | May 5, 2011 |
| 2011 | Julia Grant | 1869-1877 | June 23, 2011 |
| 2011 | Lucy Hayes | 1877-1881 | September 1, 2011 |
| 2011 | Lucretia Garfield | 1881 | December 1, 2011 |
| | | | |
| 2012 | Alice Paul | 1881-1885 | October 11, 2012 |
| 2012 | Frances Cleveland | 1885-1889 | November 15, 2012 |
| 2012 | Caroline Harrison | 1889-1893 | December 6, 2012 |
| 2012 | Frances Cleveland | 1893-1897 | December 20, 2012 |
| | | | |
| 2013 | Ida McKinley | 1897-1901 | November 14, 2013 |
| 2013 | Edith Roosevelt | 1901-1909 | November 21, 2013 |
| 2013 | Helen Taft | 1909-1913 | December 2, 2013 |
| 2013 | Ellen Wilson | 1913-1914 | December 9, 2013 |
| 2013 | Edith Wilson | 1915-1921 | December 16, 2013 |
| | | | |
| 2014 | Florence Harding | 1921-1923 | July 10, 2014 |
| 2014 | Grace Coolidge | 1923-1929 | July 17, 2014 |
| 2014 | Lou Hoover | 1929-1933 | August 14, 2014 |
| 2014 | Eleanor Roosevelt | 1933-1945 | September 4, 2014 |
| | | | |
| 2015 | Bess Truman | 1945-1953 | April 16, 2015 |
| 2015 | Mamie Eisenhower | 1953-1961 | May 7, 2015 |
| 2015 | Jacqueline Kennedy | 1961-1963 | June 25, 2015 |
| 2015 | Lady Bird Johnson | 1963-1969 | August 27, 2015 |
| | | | |
| 2016 | Patricia Nixon | 1969-1974 | February 18, 2016 |
| 2016 | Betty Ford | 1974-1977 | March 25, 2016 |
| 2016 | Nancy Reagan | 1981-1989 | July 1, 2016 |
| | | | |
| 2020 | Barbara Bush | 1989-1993 | August 20, 2020 |