The 2014 Lou Hoover First Spouse Gold Coin (Buy on eBay) was the third release of the year and the thirty-fourth release overall for the one-half ounce 24 karat gold coin series honoring the spouses of the Presidents of the United States of America. This iteration featured Lou Hoover, the First Lady to President 31st President Herbert Hoover.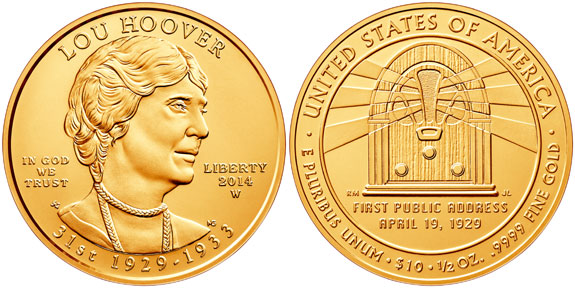 The obverse design of the coin features a near profile portrait of the First Lady designed by Susan Gamble and engraved by Michael Guadioso. The required inscriptions include "LOU HOOVER", "IN GOD WE TRUST", "LIBERTY", "2014 W", the order of the Presidency "31ST", and the dates of the Presidential term "1929-1933".
The reverse of the coin, which was designed by Richard Masters and engraved by Jim Licaretz, features a depiction of a 1920's style radio set. The design is intended to recognize Mrs. Hoover as the first First Lady to give a public radio address. An inscription reads "FIRST PUBLIC ADDRESS APRIL 19, 1929". Additional inscriptions read "UNITED STATES OF AMERICA", "E PLURIBUS UNUM", "$10", and "1/2 OZ. .9999 FINE GOLD".
Sales for the Lou Hoover First Spouse Gold Coin opened at the United States Mint on August 14, 2014. The coins were offered in both proof and uncirculated versions with a combined maximum mintage of 10,000 pieces. There were no household ordering limits imposed.
The coins were initially priced at $865 for the proof version and $845 for the uncirculated version. These prices were based on an average market price of gold within the $1,300 to $1,349.99 range and subject to potential weekly adjustment.
Both the proof and uncirculated versions of the coin remained available for sale for more than a year after the release date. When the coins were removed from availability by the United States Mint, the last reported ales had reached 2,392 proofs and 1,936 uncirculated coins. This was roughly in line with the sales for the later issues of the series.
Coin Specifications and Mintages
Date: 2014
Mint: West Point (W)
Mintage: 1,936 (uncirculated), 2,392 (proof)
Designers: Susan Gamble (obverse), Richard Masters (reverse)
Composition: 0.9999 Gold
Weight: 0.5000 troy oz. (15.554 g)
Diameter: 1.041 inches (26.49 mm)
Thickness: 0.074 inches (1.88 mm)
2014 First Spouse Gold Coins

< Grace Coolidge | Eleanor Roosevelt >