Frances Cleveland is the only individual to be featured on two separate issues of the First Spouse Gold Coin series. This is due to the fact that her husband, Grover Cleveland, served as President of the United States during two nonconsecutive terms. The second coin is issued for the 24th Presidency, covering the years 1893-1897.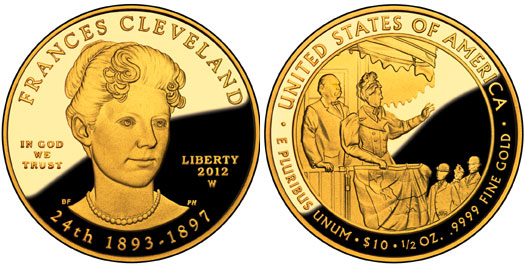 This coin features another portrait of the First Lady on the obverse, along with the order of the Presidency and the dates of the term. The selected obverse was designed by Barbara Fox and sculpted by Phebe Hemphill.
The reverse of the coin was designed and sculpted by Joseph Menna and is intended to represent the popularity of the First Lady with the public. She appears by the side of her husband greeting a crowd. The inscriptions on the reverse include "UNITED STATES OF AMERICA", the motto "E PLURIBUS", "$10", and "1/2 OZ. .999 FINE GOLD".
The Frances Cleveland Second Term Gold Coin (Buy on eBay) went on sale at the United States Mint on December 20, 2012. The release dates for each of the four coins issued for the series during the year were significantly delayed due to striking problems. As a result, all four coins had been released in rapid succession near the end of the year.
Initial pricing for the coins was established at $1,004 for the proof version and $991 for the uncirculated version. As with other numismatic gold products, pricing was adjusted as frequently as weekly based on the average market price of gold. A sharp decline in gold pries led the coins to be priced as low as $840 for proofs and $820 for uncirculated coins in the following year.
The maximum mintage across both versions of the coin was established at 13,000 coins. Sales for the coins would eventually conclude on December 31, 2013. The last reported sales levels were 2,425 uncirculated and 3,104 proof coins.
Coin Specifications and Mintages
Date: 2012
Mint: West Point (W)
Mintage: 2,425 (uncirculated), 3,104 (proof)
Designers: Barbara Fox (obverse), Joseph Menna (reverse)
Composition: 0.9999 Gold
Weight: 0.5000 troy oz. (15.554 g)
Diameter: 1.041 inches (26.49 mm)
Thickness: 0.074 inches (1.88 mm)
2012 First Spouse Gold Coins

< Caroline Harrison | Ida McKinley >