The 2014 Eleanor Roosevelt First Spouse Gold Coin (Buy on eBay) represented the final release of the year and the thirty-fifth overall release within the First Spouse Gold Coin Program.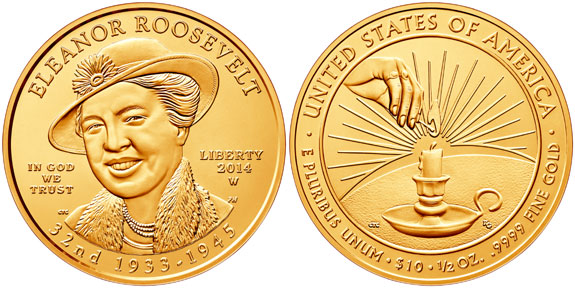 Eleanor Roosevelt has the distinction of being the longest serving First Lady of the United States, holding the position from 1935 to 1945 during her husband Franklin D. Roosevelt's four terms as President. During her tenure, she was known for being active and outspoken, holding her own press conferences, writing a syndicated newspaper column, and speaking at a national convention. Following her husband's death, she remained active in politics as a delegate to the United Nations, the first chair of the U.N. Commission on Human Rights, and the chair of the John F. Kennedy Administration's Presidential Commission on the Status of Women.
The obverse design of the coin features a portrait of the First Lady designed by Chris Costello and engraved by Phebe Hemphill. The inscriptions include "ELEANOR ROOSEVELT", "IN GOD WE TRUST", "LIBERTY", "2014 W", "32ND", and "1935-1945".
The reverse design of the coin was inspired by a quote from Adlai Stevenson following her death: "She would rather light a candle than curse the darkness, and her glow has warmed the world". The design features a depiction of Mrs. Roosevelt's hand lighting a candle with the glow from its light rising over a stylized graphic of the Earth's horizon to symbolize her life's work and the global impact of her humanitarian initiatives. The reverse was designed by Chris Costello and engraved by Renata Gordon. The inscriptions read "UNITED STATES OF AMERICA", "E PLURIBUS UNUM", "$10", and "1/2 OZ. .9999 FINE GOLD".
The Eleanor Roosevelt First Spouse Gold Coins went on sale at the United States Mint on September 4, 2014. The initial pricing for the coins was $840 for the proof version and $820 for the uncirculated version based on an average gold price within the $1,250 to $1,299.99 range. The price was subject to periodic adjustment based on the market price of gold.
Despite Eleanor Roosevelt's popularity and defining role as First Lady, the maximum mintage for the coins was 10,000 pieces across proof and uncirculated versions. This was the same level established for the other releases of the series for the year. Certain other popular First Spouses had higher mintages established based on anticipated popularity.
While the other 2014-dated releases of the series would linger in availability for more than a year, the Eleanor Roosevelt First Spouse Gold Coins would sell out in April 2015, attesting to the higher demand for the issue. The last reported sales were indicated as 2,377 proofs and 1,886 uncirculated coins. The low mintage combined with the unexpected nature of the sell out have resulted in premium prices for the coins on the secondary market.

Coin Specifications and Mintages
Date: 2014
Mint: West Point (W)
Mintage: 1,886 (uncirculated), 2,377 (proof)
Designers: Chris Costello (obverse and reverse)
Composition: 0.9999 Gold
Weight: 0.5000 troy oz. (15.554 g)
Diameter: 1.041 inches (26.49 mm)
Thickness: 0.074 inches (1.88 mm)
2014 First Spouse Gold Coins

< Lou Hoover | Bess Truman >