The 2013 Ellen Wilson First Spouse Gold Coin (Buy on eBay) represented the first of two different coins issued for the 28th Presidency. Since President Woodrow Wilson had both a first and second wife while in office, both First Ladies were honored on separately issued coins. This was the second instance of the series when a Presidency was marked by the issuance of two different coins.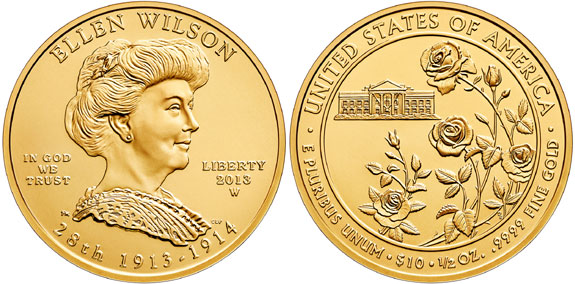 The obverse, which was designed by Frank Morris and engraved by Charles Vickers, featured a near profile portrait of Ellen Wilson. The surrounding inscriptions read "ELLEN WILSON", "IN GOD WE TRUST", "LIBERTY", "2013 W", "28TH", and the dates as First Lady "1913-1914".
The reverse design of the coin featured an image of roses with the White House visible in the background. This design was intended to be a tribute to Mrs. Wilson's creation of the White House Rose Garden. The final design was modified slightly from the original proposal, with the overlap of the roses and the White House eliminated. The reverse was designed and engraved by Don Everhart.
Inscriptions on the reverse included "UNITED STATES OF AMERICA", the motto "E PLURIBUS UNUM", the legal tender denomination "$10", and the precious metal purity and weight of "1/2 OZ .9999 FINE GOLD".
Continuing the rapid schedule of release, sales for the Ellen Wilson First Spouse Gold Coins began on December 9, 2013. The United States Mint offered proof and uncirculated versions of the coin with a combined maximum mintage of 10,000 pieces.
Initial pricing for the coins was $815 for the proof version and $795 for the uncirculated version. These prices were based on an average gold price within the $1,200 to $1,249.99 range and remained subject to potential adjustment throughout the course of the offering, which would extend into 2015.
The last reported sales for the Ellen Wilson First Spouse Gold Coins would measure 1,980 uncirculated and 2,511 proof pieces. These figures came in below previous mintage lows for the series.
Coin Specifications and Mintages
Date: 2013
Mint: West Point (W)
Mintage: 1,980 (uncirculated), 2,511 (proof)
Designers: Frank Morris (obverse), Don Everhart (reverse)
Composition: 0.9999 Gold
Weight: 0.5000 troy oz. (15.554 g)
Diameter: 1.041 inches (26.49 mm)
Thickness: 0.074 inches (1.88 mm)
2013 First Spouse Gold Coins

< Helen Taft | Edith Wilson >