The Thomas Jefferson's Liberty First Spouse Gold Coin (Buy on eBay) was the third release of the series created to honor the President's spouses. Since Jefferson was not married while in office, the coin features an image of Liberty from a coin issued during the Presidential term.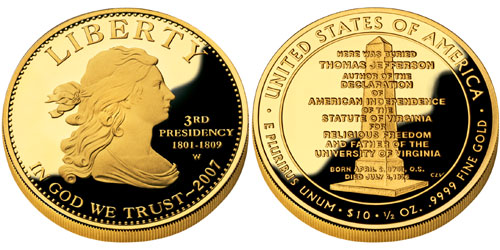 Following the one-day sell out of the first two releases of the series, the United States Mint lowered household ordering limits from five per option per household, to just one per option per household. Despite the reduced limit, the Jefferson's Liberty Gold Coins still achieved a first day sell out.
The obverse of the coin bears the image of Liberty originally used on the Draped Bust Half Cent, produced between 1800 and 1808. The obverse inscriptions include "LIBERTY", "IN GOD WE TRUST – 2007", "3RD PRESIDENCY", the dates of the Presidential term "1801-1809", and the mint mark "W". The obverse was originally designed by Robert Scot and re-sculpted by Phebe Hemphill.
The reverse features an image of Thomas Jefferson's monument. This is the final resting place of the 3rd President, which is located on the grounds of his estate in Monticello. The inscription from the monument is reproduced on the coin: "HERE WAS BURIED THOMAS JEFFERSON, AUTHOR OF THE DECLARATION OF INDEPENDENCE, OF THE STATUTE OF VIRGINIA FOR RELIGIOUS FREEDOM AND THE FATHER OF THE UNIVERSITY OF VIRGINIA. BORN APRIL 2,1743, O.S. DIED JULY 4, 1826".
Additional reverse inscriptions include "UNITED STATES OF AMERICA", "E PLURIBUS UNUM", the denomination "$10", and the weight and purity of the gold content "1/2 OZ. .9999 FINE GOLD". The reverse was designed and sculpted by Charles Vickers.
The 2007 Thomas Jefferson's Liberty First Spouse Coins were produced in proof and uncirculated qualities. Upon initial availability from the U.S. Mint, the proof version was priced at $429.95 and the uncirculated version was priced at $410.95.
The coins had a mintage of 40,000 coins, for which orders were received on the first day of sales. Final mintage figures ultimately indicated 19,823 uncirculated and 19,815 proof coins. After the excitement about the new series began to fade, thousand of Jefferson's Liberty Gold Coins were reported melted. The precise impact of the melting on the surviving mintage is unknown.
Coin Specifications and Mintage
Date: 2007
Mint: West Point (W)
Mintage: 19,815 (proof), 19,823 (uncirculated)
Designers: Robert Scot (obverse), Charles Vickers (reverse)
Composition: 0.9999 Gold
Weight: 0.5000 troy oz. (15.554 g)
Diameter: 1.041 inches (26.49 mm)
Thickness: 0.074 inches (1.88 mm)
2007 First Spouse Gold Coins

< Abigail Adams | Dolley Madison >